Discover more from 20 Minutes into the Future
A critical look at how technology is shaping our lives today and what actions we can take for a better tomorrow.
Over 2,000 subscribers
10 stories this week (w/e 15 Feb)
3-min read
Hello from 20 Minutes into the Future. Welcome to our weekend complement to the normal weekly commentary. Below you'll find 10 links to stories that also take a critical look at how technology is shaping our lives today.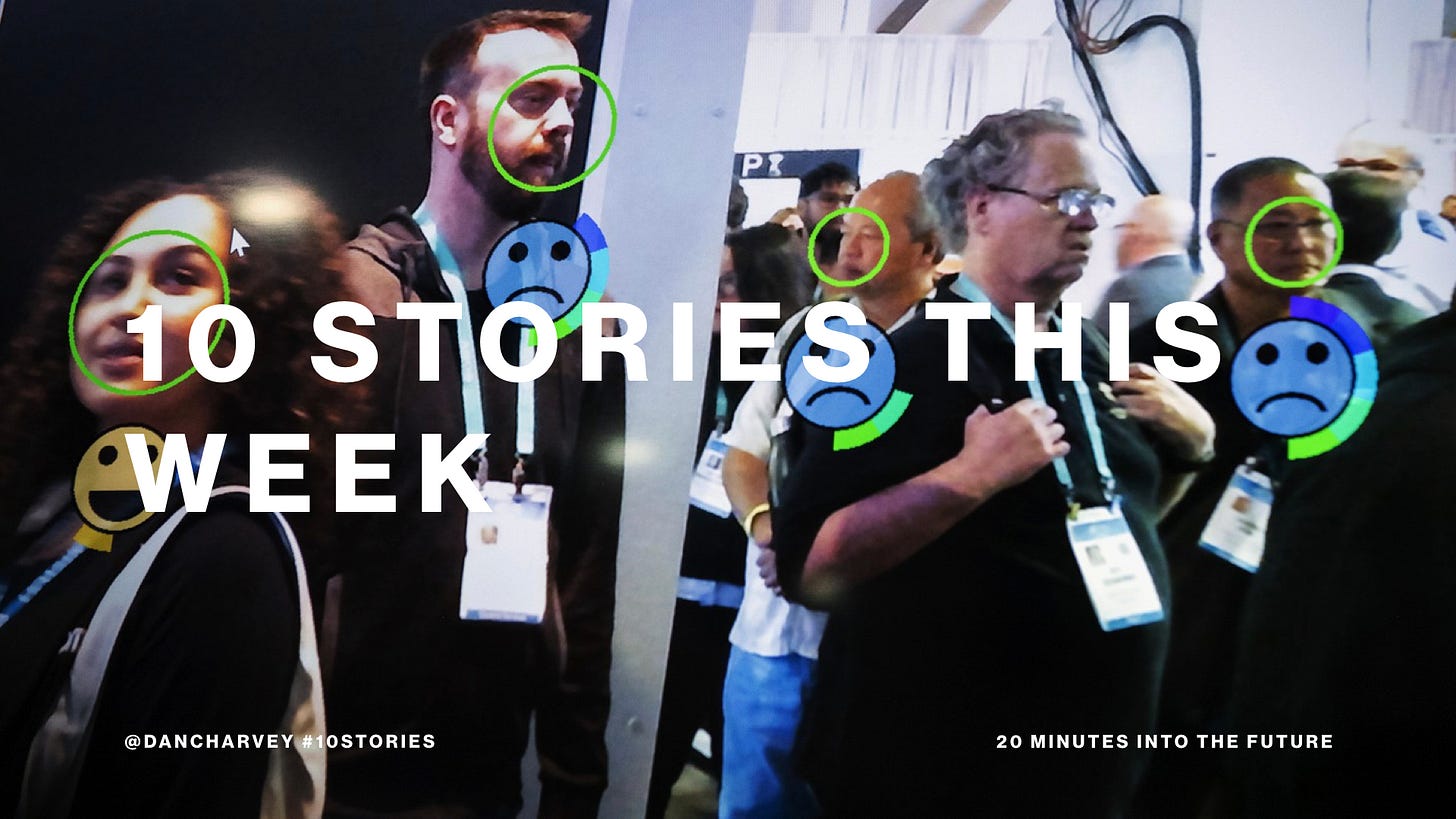 ⓵ Mike Monteiro brings the 🔥. I think they just lie to their kids personally.
https://modus.medium.com/dear-designer-how-to-explain-to-your-kids-that-you-work-at-facebook-64a93bef7ac3
⓶ Co-founder of Harvard's Berkman Klein Center, Jonathan Zittrain on what might come next after privacy is well and truly dead. What do you reckon comes next? Pseudoworld? Transcriptworld? Something else?
https://www.theatlantic.com/technology/archive/2020/02/we-may-have-no-privacy-things-can-always-get-worse/606250/
⓷ This is why we need to bring back the guillotine. "Over the last two years, nearly every institution of American life has taken on the unmistakable stench of moral rot. Corporate behemoths like Boeing and Wells Fargo have traded blue-chip credibility for white-collar callousness. Elite universities are selling admission spots to the highest Hollywood bidder. Silicon Valley unicorns have revealed themselves as long cons (Theranos), venture-capital cremation devices (Uber, WeWork) or straightforward comic book supervillains (Facebook)."
https://www.huffpost.com/highline/article/white-collar-crime/
⓸ Clearview CEO Hoan Ton-That is a lying sack of shit. Facial recognition (and image classification more broadly) is deeply biased and often racist. The ACLU brought receipts.
https://www.buzzfeednews.com/article/carolinehaskins1/clearview-ai-facial-recognition-accurate-aclu-absurd
---
Not a subscriber yet? 20 Minutes into the Future is 100% ad free and always will be. Sign up for weekly commentary & related links to help you dig deeper into big tech behaving badly.
---
⓹ Fox's own internal "research" teams are wary of how much disinformation Trumpworld regulars spread on Fox News. Maybe they should do something more about aside from writing some leaked memos?
https://www.thedailybeast.com/fox-news-internal-document-bashes-john-solomon-joe-digenova-and-rudy-giuliani-for-spreading-disinformation
⓺ Never forget: Travis Kalanick is such a piece of shit. This time out he's breaking health & safety standards, falsely advertising, and ripping you off. He's not an "innovative disruptor", he's a crazy libertarian that's never met a law he didn't want to break for profit. 
https://brokeassstuart.com/2020/02/11/more-than-20-ghost-kitchens-are-operating-out-of-this-dump-in-south-of-market/
⓻ It's also important to note Amazon makes some of its money by putting putting kids in cages. "It is probably important to note here that Amazon paid zero dollars in federal income tax on $11 billion in before-tax profit in 2018; this year, it will pay out $162 million on $13.3 billion in profit — a whopping 1.2 percent effective tax rate."
https://www.theverge.com/2020/2/12/21135400/jeff-bezos-warner-estate-expensive-property-david-geffen-amazon
⓼ "For more than half a century, governments all over the world trusted a single company to keep the communications of their spies, soldiers and diplomats secret… But what none of its customers ever knew was that Crypto AG was secretly owned by the CIA in a highly classified partnership with West German intelligence."
https://www.washingtonpost.com/graphics/2020/world/national-security/cia-crypto-encryption-machines-espionage/
---
Sick and tired of big tech behaving badly? 20 Minutes into the Future is about holding the bastards to account. One way we can do that is by spreading the word of their misdeeds.
---
⓽ You don't need a voting app. You don't need the blockchain. You don't need a blockchain voting app.
https://www.theverge.com/2020/2/13/21136219/voatz-blockchain-voting-app-election-software-hacking-mit-research-cybersecurity
⓾ Conspiracism is a hallmark of modern propaganda. "The seepage of conspiracy theorizing from the digital fever swamps into life offline is one of the more unsettling developments of the Trump era, in which the president has relentlessly pushed groundless conspiracies to reshape political narratives to his liking."
https://www.nytimes.com/2020/02/09/us/politics/qanon-trump-conspiracy-theory.html
---
Dig deeper with these stories from 20 Minutes into the Future:
---
Thanks for reading 20 Minutes into the Future. Have a friend or colleague who'd like the newsletter? Invite them to sign up.  

Good night and good future, 
Daniel
---
20 Minutes into the Future is a critical look at how technology is shaping our lives today. And what actions we can take for a better tomorrow. If you're not already a subscriber and found this newsletter worth your while then please sign up.
---
My name is Daniel Harvey and I write 20 Minutes into the Future. I'm a product designer and have written for Fast Company, Huffington Post, The Drum, & more. If you're pissed about the current state of tech and want to see us do better then you've found a kindred spirit.
You can email me at daniel.harvey@gmail.com or follow me on Twitter @dancharvey.