Discover more from 20 Minutes into the Future
A critical look at how technology is shaping our lives today and what actions we can take for a better tomorrow.
Over 2,000 subscribers
How the world's richest man helps run America's concentration camps
5-min read
Hello from 20 Minutes into the Future. Tonight we'll be looking at how Amazon enables the corrupt mission of ICE & CBP. Maybe same day shipping isn't worth all those dead kids?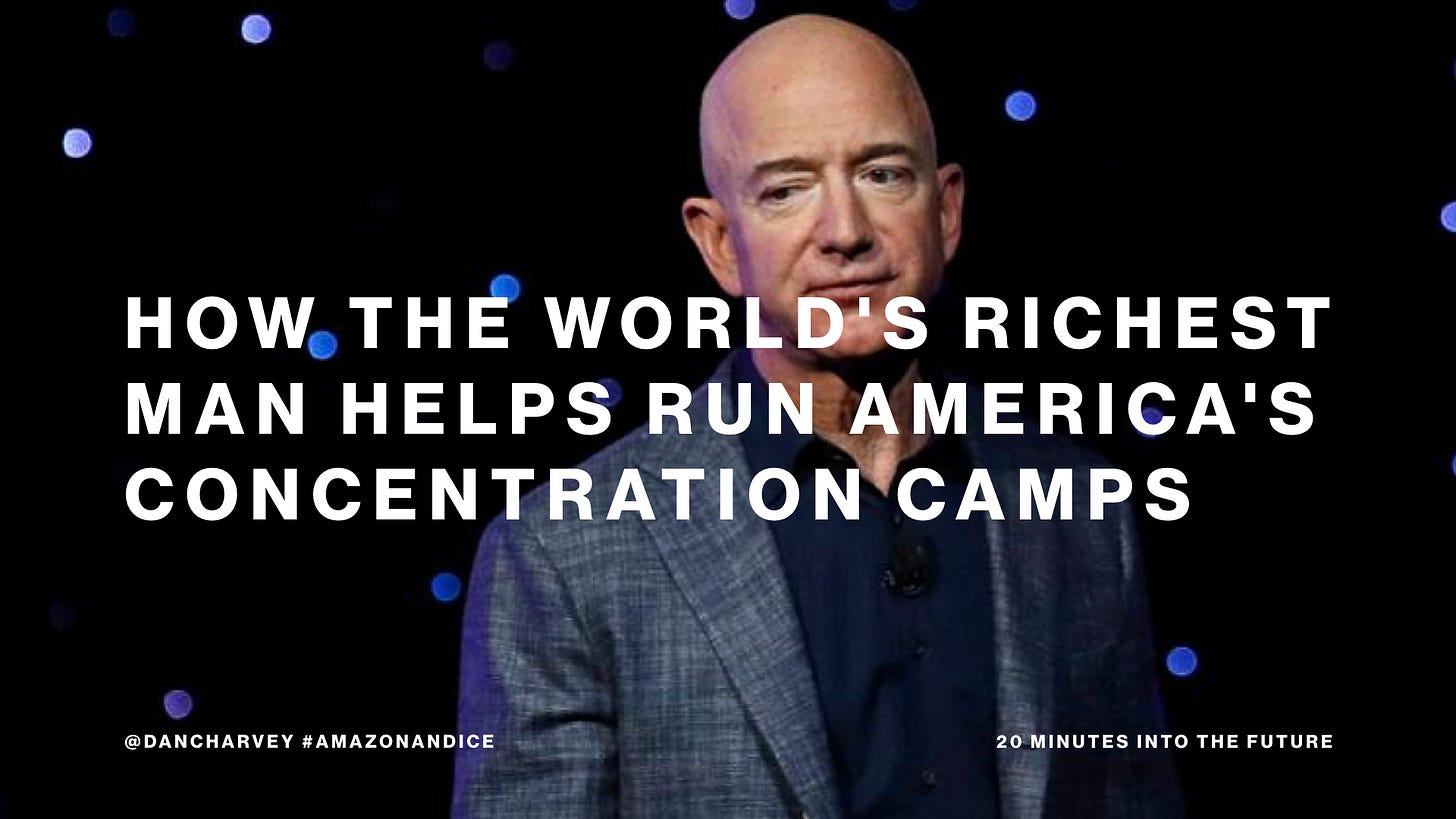 The Revolving Door
In 2010, Federal Chief Information Officer Vivek Kundra instituted a "Cloud First" policy. That opened up $20 billion in government IT contracts to companies like Amazon, Google, Microsoft, and more. The largest part of which was $2.4 billion for the Department of Homeland Security (DHS) — that number has grown to be as much as $6.8 billion in 2019.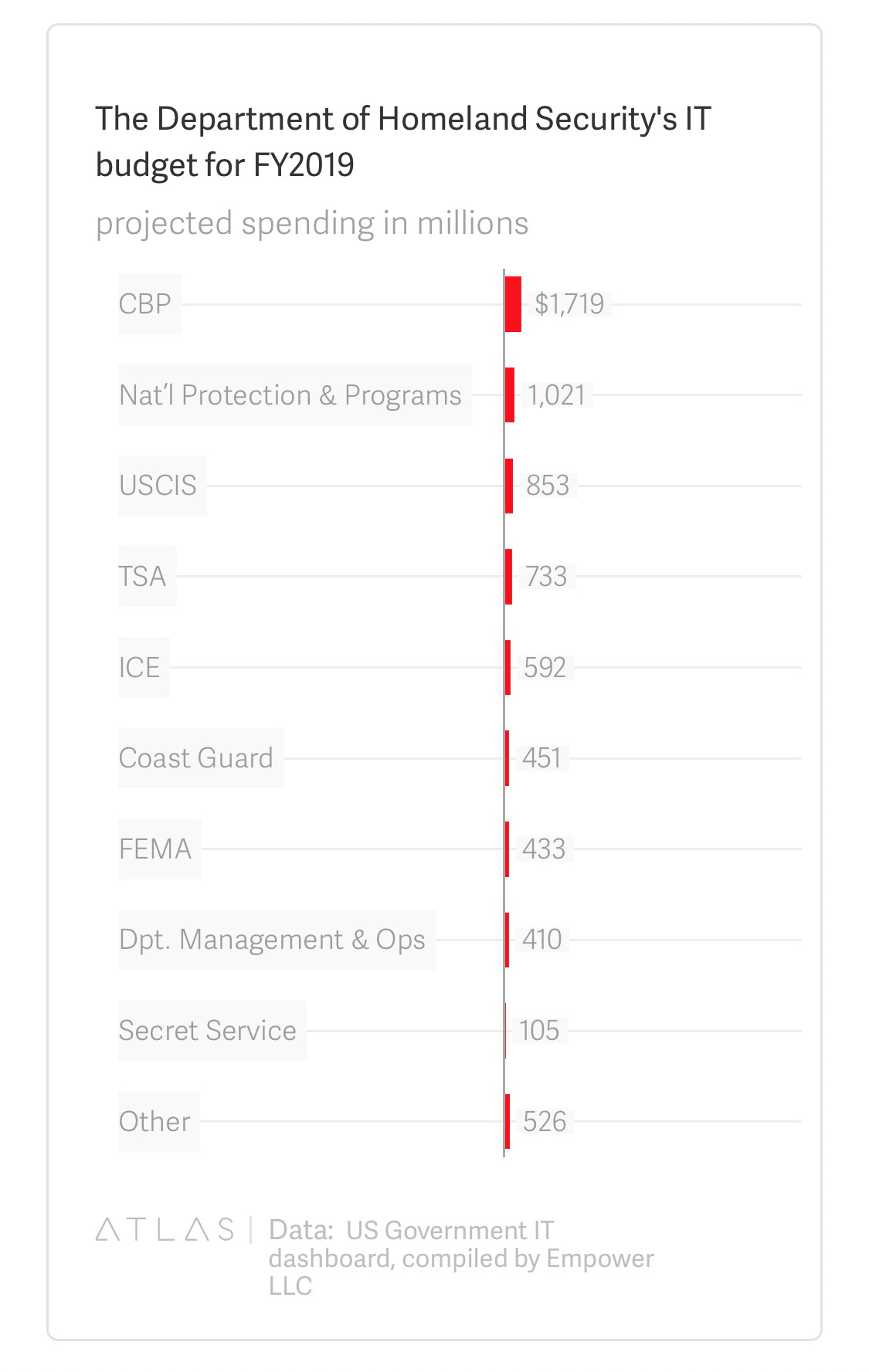 In 2011, The Office of Management and Budget (OMB) established the Federal Risk and Authorization Program (FedRAMP). FedRAMP exists "to provide a cost-effective, risk-based approach for the adoption and use of cloud services to Executive departments and agencies." Per OMB "any cloud service that holds federal data must be FedRAMP authorised."
In 2014 Darrell Issa (R-CA) and Gerald Connolly (D-VA) sponsored the Federal Information Technology Acquisition Reform Act (FITARA). FITARA did two things:
it further expanded the budgeting powers of Federal and agency CIOs.

and it mandated data centre consolidation.
To support FITARA Issa and Connolly announced the formation of a public-private congressional committee.
This super group was made up of the congressional Cloud Computing Caucus and the Cloud Computing Caucus Advisory Group. The latter is made up of lobbyists from Amazon, Microsoft, Dell, and more. Issa and Connolly have received at least a quarter of a million in direct campaign contributions from those companies' PACs.
These policies created a revolving door between Federal CIOs and cloud service providers:
The first Federal CIO, Vivek Kundra, left the office in 2011 to take a job at Salesforce in 2012.

The second Federal CIO, Steven Roekel, worked at Microsoft from 1994 to 2009.

The third Federal CIO, Tony Scott, was CIO of Microsoft from 2008 to 2013 and CIO of cloud provider VMware from 2013 until his 2015 federal appointment.
Each of those companies have very lucrative and active contracts to help ICE/CBP. But it's CIOs all the way down. Every agency has their own CIO. And that's where things get telling for Amazon and the DHS and its sub-agencies. Mark Schwartz becomes a key person to watch.
Mark Schwartz was CIO for DHS from 2010 to 2017. Schwartz oversaw a near-total migration of U.S. Citizenship and Immigration Services (USCIS) systems to the Amazon cloud. Today he's an Enterprise Strategist at Amazon Web Services.
---
Not a subscriber yet? 20 Minutes into the Future is 100% ad free and always will be. Sign up for weekly commentary & related links to help you dig deeper into big tech behaving badly.
---
Democracy dies in the cloud
In June 2018, ICE started its detention and separation program in earnest. One of the tools that enabled it is the Investigative Case Management system (ICM). ICM uses vast amounts of public and private data to conduct raids. Arrests are up 42% since the launch of the program. Activists say ICM is mass surveillance on an unprecedented scale.
ICM is the brainchild of Palantir, Peter Thiel's morally bankrupt data firm. It is a mission-critical component of ICE's detention and deportation program. The entirety of ICM's dataset and algorithms exist in Amazon's cloud. That data includes "a person's immigration history, family relationships, personal connections, addresses, phone records, biometric traits, and other information." Palantir pays Amazon $600,000/mo to run ICM.
Why Amazon? It all comes back to FedRAMP: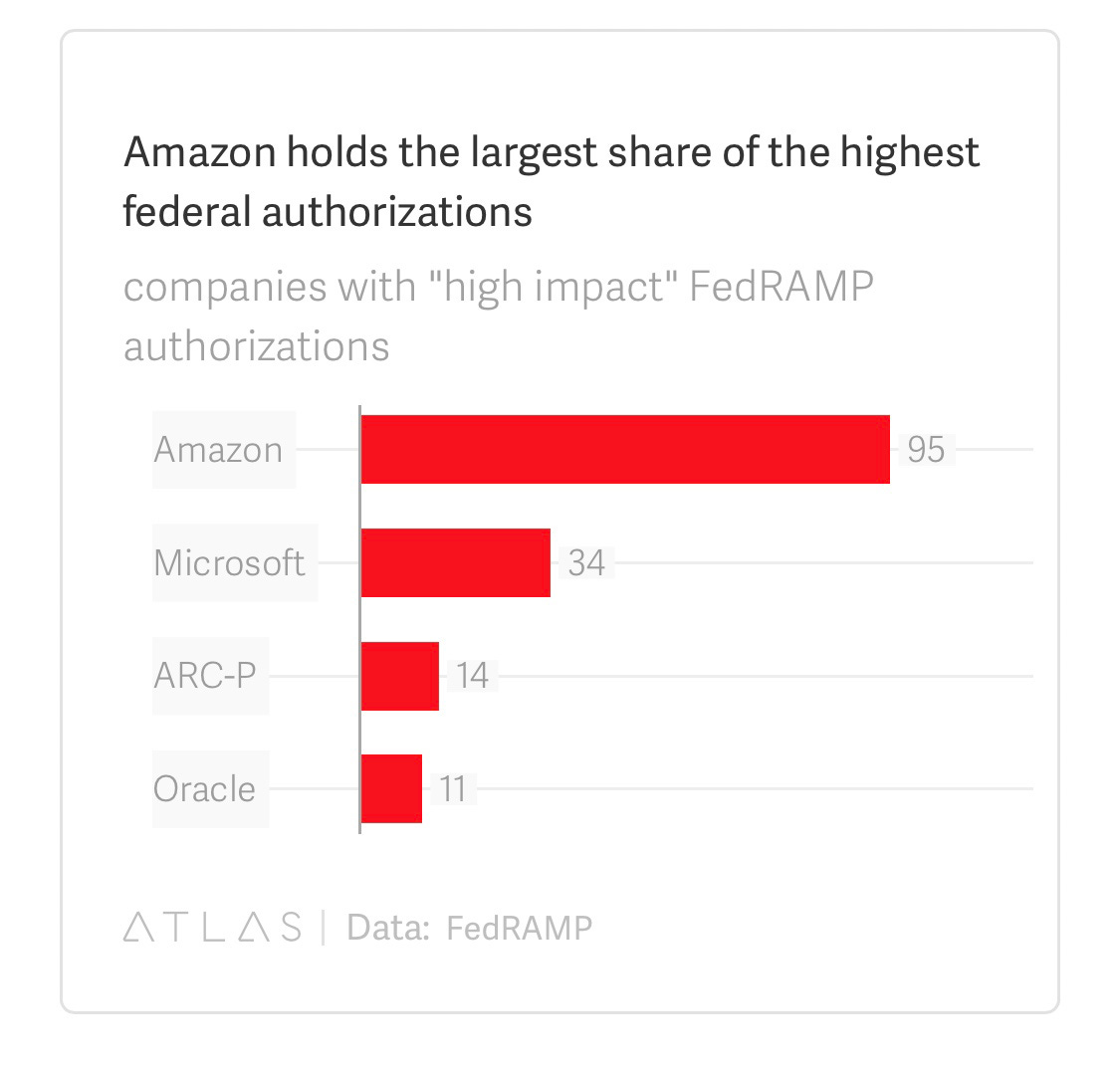 Amazon holds 62% of the "high impact" FedRAMP authorisations. That class is what's required to manage data for law enforcement. The chances were high — by design of FITARA — that Amazon would profit one way or another from the tech used by ICE.
Perhaps not coincidentally either Amazon lobbies Washington harder than any of those other companies. In 2018 Amazon spent $14 million on K street. Microsoft spent $9.52 million. ARC-P and Oracle don't even compare. Funny that.
Employees were amongst the first to raise an alarm about Amazon's involvement with ICE. 450 staff signed a letter demanding Amazon kick Palantir off of AWS. They also urged management to institute an employee ethical oversight board.
I can hear you saying "But Dan, aren't you blaming Amazon for Palantir's work?" In a word, no. Besides powering ICM, AWS directly hosts:
All the core data systems for USCIS

Several DHS databases and operations

Biometric data including fingerprints, face records, and iris scans for 230 million people
Amazon also tried to sell its controversial Rekognition software to supercharge ICE's tactics. Amazon, McKinsey, and ICE met an undisclosed number of times in the late spring/summer of 2018. The organisations participated in "bootcamps" to discuss the role facial recognition could play in supporting ICE's apprehension, detention, and deportation efforts.
ICE officials — not Amazon or McKinsey reps — expressed apprehension about the tech. Alonzo Peña, former Deputy Director of ICE said:
"If they have this technology, I can see it being used in any way they think will help them increase the numbers of detentions, apprehensions, and removals. Possible abuse should be an area of concern, given this new technology—there's potential for its use to be very widespread."
When the fascists putting kids in cages have more concerns about abuses of power by big tech than its own execs then we have a real fucking problem. Employees at Amazon had similar concerns. One even took to Medium to post an open letter about Rekognition:
We know from history that new and powerful surveillance tools left unchecked in the hands of the state have been used to target people who have done nothing wrong; in the United States, a lack of public accountability already results in outsized impacts and over-policing of communities of color, immigrants, and people exercising their First Amendment rights. Ignoring these urgent concerns while deploying powerful technologies to government and law enforcement agencies is dangerous and irresponsible.
Bezos's response? "I feel that society develops an immune response eventually to the bad uses of new technology, but it takes time."
Time is something that 16 year-old Carlos Hernandez Vazquez no longer has. His time ran out on May 20, 2018. As it did for other minors like 8 year-old Felipe Gomez Alonso and 7 year-old Jakelin Caal Maquin.Or any of the other two dozen immigrants that have died in ICE/CBP custody. So yeah, fuck Bezos and fuck Amazon.
---
Dig deeper with these stories from across the web:
---
Thanks for reading 20 Minutes into the Future. Have a friend or colleague who'd like the newsletter? Invite them to sign up.

Good night and good future,
Daniel
P.S. Special thanks for @benoderwald for helping me sharpen the thinking here. He's whip-smart and cares deeply about the issues we talk about in the newsletter. Do give him a follow on Twitter.
---
20 Minutes into the Future is a critical look at how technology is shaping our lives today. And what actions we can take for a better tomorrow. If you're not already a subscriber and found this newsletter worth your while then please sign up.
---
My name is Daniel Harvey and I write 20 Minutes into the Future. I'm a product designer and have written for Fast Company, Huffington Post, The Drum, & more. If you're pissed about the current state of tech and want to see us do better then you've found a kindred spirit.
You can email me at daniel.harvey@gmail.com or follow me on Twitter @dancharvey.