10 stories this week (w/e 04 Apr)
3:20-min read
Hello from 20 Minutes into the Future. The new job was insanely busy so there was no usual weekly commentary. Below you'll find 10 links to stories that also take a critical look at how technology is shaping our lives today.
But before you tuck into those, a quick announcement. I've joined up with the Nothing Here team to help produce their terrific bi-weekly newsletter. I kinda think of it as Boing Boing but cranked up to 11. Give it a shot. My debut contribution kicks off in tomorrow's release.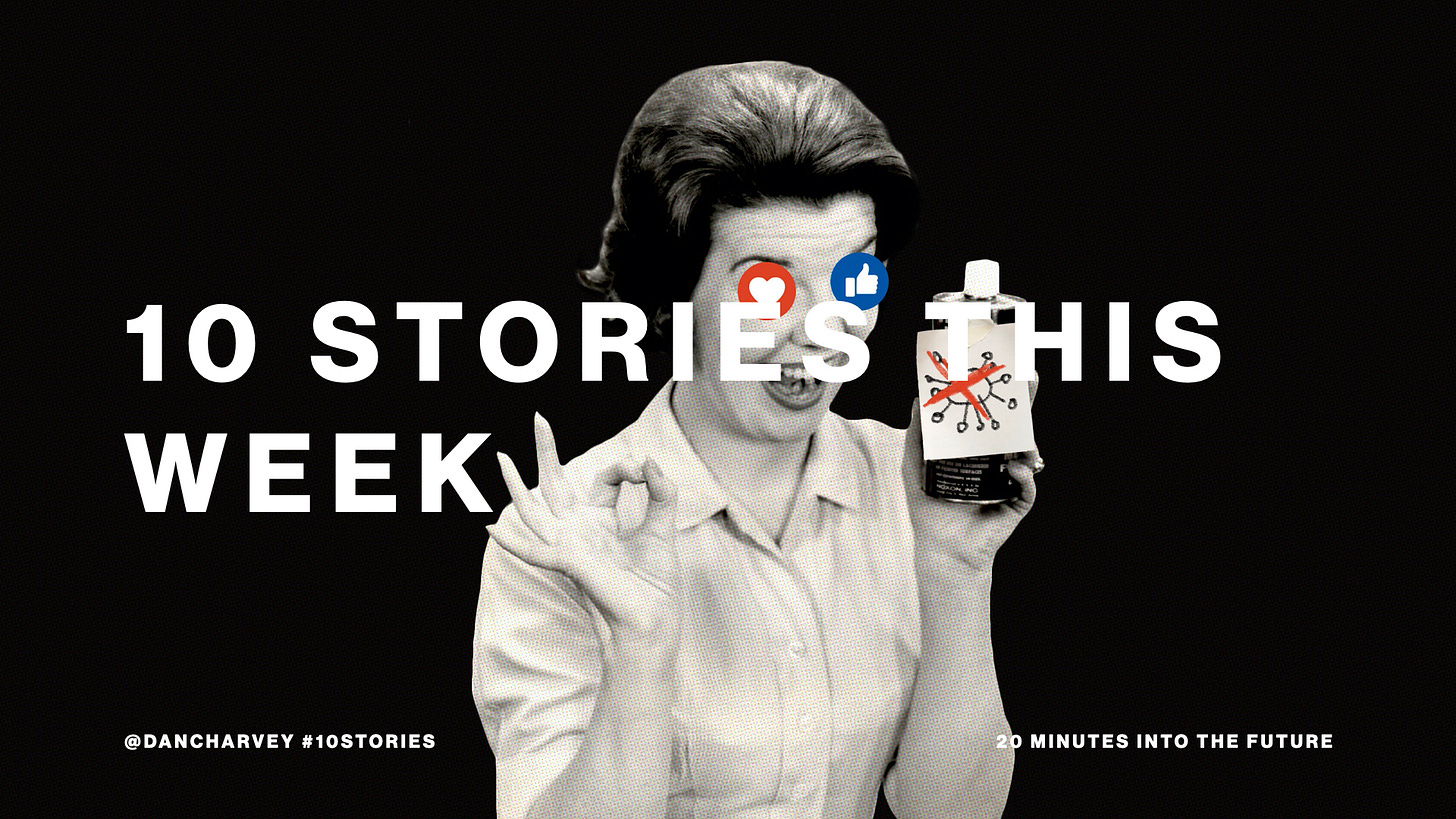 ⓵ YouTube (yawn) is working on a TikTok rival. It won't work. This will be the App Store equivalent of that Steve Buscemi SNL sketch.
https://www.nbcnews.com/business/business-news/youtube-developing-rival-tiktok-n1174396
⓶ You'd be forgiven if you thought Elon Musk actually did something good the other day. Nope! Turns out he was too busy grandstanding to realise he bought sleep apnea machines instead of much-needed ventilators…
https://futurism.com/elon-musk-donated-wrong-kind-ventilator
⓷ GE workers demand their bosses stop busy as usual in favour of mass-producing ventilators. Contagion has nothing on collective action. Solidarity!
https://www.independent.co.uk/news/world/americas/coronavirus-general-electric-workers-ventilators-work-stoppage-labor-massachusetts-a9436881.html
⓸ Amazon and Instacart workers have been deemed essential during the pandemic. You'd think if they were essential then they wouldn't have to strike for basic protections from Covid-19. Every order you make is putting dozens of lives at risk.
https://slate.com/technology/2020/03/amazon-instacart-workers-strike.html
---
Not a subscriber yet? 20 Minutes into the Future is 100% ad free and always will be. Sign up for weekly commentary & related links to help you dig deeper into big tech behaving badly.
---
⓹ How poorly are those Amazon workers being treated? Those essential workers sacrificing their health for your convenience? When they get fevers they're being sent home without pay.
https://www.buzzfeednews.com/article/carolineodonovan/coronavirus-amazon-employees-sent-home-without-pay
⓺ Never forget: influencers are garbage people. In my dream utopia they're next in the guillotine queue after the billionaires and management consultants.
https://www.wired.com/story/coronavirus-anxieties-soar-wellness-influencers-step-in/
⓻ A wide-ranging look at The Democrats fight to get their digital groove back. Touches on GoP misinformation, the urge to fight fire with fire, and more. Definitely some points we'll come back to again in the weekly commentary soon.
https://www.nytimes.com/2020/03/30/us/politics/democrats-digital-strategy.html
⓼ Wired takes a look at a host of the conspiracy theories spiralling out of Covid-19. Propaganda is always perilous and profitable. Propaganda in the age of pandemics even more so.
https://www.wired.com/story/coronavirus-covid-19-misinformation-campaigns/
---
Sick and tired of big tech behaving badly? 20 Minutes into the Future is about holding the bastards to account. One way we can do that is by spreading the word of their misdeeds.
---
Rounding out the email with two from my former (and hopefully future) colleague Andrew Eland over on the projects by IF blog:
⓽ "'How might we use data about how people move to support the response to COVID-19?' is a pressing question. For instance, researchers could use movement patterns to build and validate epidemiological models. And health service staff might use an individual's movement data to help trace contacts. These activities are valuable, but when data collected with individual consent is reused for the public good, it challenges that model of consent."
https://www.projectsbyif.com/blog/using-data-for-public-good/
⓾ "Data rarely describes a single individual. A single individual's historical location data also reveals the movements of the people they were with at the time. A parental school run recorded by Google Maps, for example, reveals the location of that parent's children. Data collected from consenting individuals can be used to make inferences about similar people, regardless of whether those similar people have provided consent. Individualised consent pretends data contributed by a single individual describes only that individual."
https://www.projectsbyif.com/blog/collective-consent-for-collective-data/
---
Dig deeper with these stories from 20 Minutes into the Future:
---
Thanks for reading 20 Minutes into the Future. Have a friend or colleague who'd like the newsletter? Invite them to sign up.  

Good night and good future, 
Daniel
---
20 Minutes into the Future is a critical look at how technology is shaping our lives today. And what actions we can take for a better tomorrow. If you're not already a subscriber and found this newsletter worth your while then please sign up.
---
My name is Daniel Harvey and I write 20 Minutes into the Future. I'm a product designer and have written for Fast Company, Huffington Post, The Drum, & more. If you're pissed about the current state of tech and want to see us do better then you've found a kindred spirit.
You can email me at daniel.harvey@gmail.com or follow me on Twitter @dancharvey.