Discover more from 20 Minutes into the Future
A critical look at how technology is shaping our lives today and what actions we can take for a better tomorrow.
Over 2,000 subscribers
How we can fight Uber
Hello from 20 Minutes into the Future. This week's letter is 1,052 words, a 04:15 minute read. Tonight we'll be looking at ways riders, drivers, and cities are fighting back against Uber.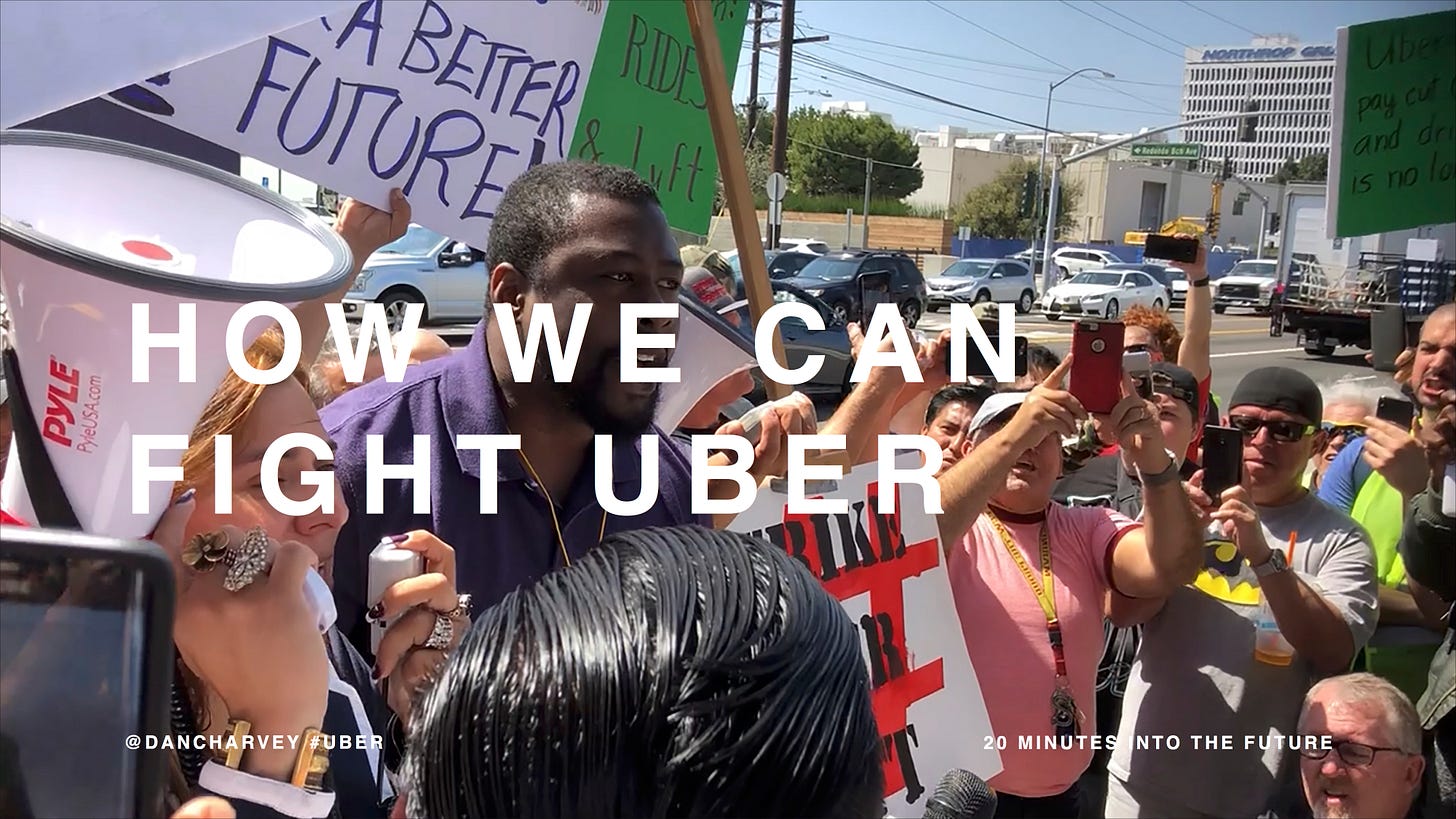 This post is part 5 of a series, Push a Button, Get a Car, Create Economic Injustice. In it, I'm exploring the exploitative nature of Uber's business and its ramifications for the future. You can read the first, second, third and fourth posts if you'd like to get up to speed. Up now, how communities are fighting Uber in the streets, courts, and app stores. Fire up your engines.
Drivers across the world protested Uber in May as it was celebrating its IPO. Strikes mounted in London, Birmingham, Nottingham, Glasgow, New York, San Francisco, Chicago, Los Angeles, San Diego, Philadelphia and Washington DC. Drivers were protesting low pay, high commissions, and poor working conditions.
Strikes and other collective action have continued since. Drivers blocked traffic in Manhattan on September 17th. They even protested outside of the homes of early investors as they cashed out their shares.
A few years ago, cities lost their first skirmishes with Uber. Cities have dusted themselves off and and readied themselves for new battles. In November alone:
London declined to renew its license. In their statement TfL (Transport for London) cited over 14,000 trips by "fake drivers." TfL said it was representative of a "pattern of failure" and that "Uber is not a fit and proper operator."
Seattle approved new fees on rides and a to-be-determined minimum wage for drivers. Fare Share introduces a new tax of 51 cents per Uber and Lyft ride. Money raised from it will fund affordable housing near transit hubs and a street car project.
Chicago passed a congestion tax on ride-hail services that adds as much as $3 to some rides during peak hours. It's designed to minimize traffic downtown where public transit is plentiful. And encourage group rides over private ones. The new tax could raise $40 million a year. $2 million of which is set aside for public transit projects like dedicated bus lanes.
New Jersey hit the company with a $640 million bill for misclassifying drivers as independent contractors. This is the single biggest challenge yet as it cuts to the very heart of Uber's predatory practices. It also represents massive cost savings to the city and the general public. Why? Because currently taxpayers pay when independent contractors file for unemployment or diasability insurance.
Over the last year other cities have been fighting back too:
New York City voted a year ago to grant Uber drivers minimum-wage protection. Pay went up to $17.22 an hour, an increase of 44%. That should help 70,000 drivers earn $9,600 more a year.
In Los Angeles, the City Council proposed $30/Hr. minimum for Uber and Lyft Drivers. $15 would go toward expenses such as gas and insurance while the other $15 would be wages. That's a noticeable increase over the $9.21 (after expenses) drivers get currently.
San Francisco city officials are seeking new powers to regulate ride hailing. Currently only the State has authority to contend with these companies. Jeffrey Tumlin, the newly appointed director of the San Francisco Municipal Transportation Agency has said:
"We need changes at the state public utility commission that delegates to municipalities the right range of authority in order to ensure ride-hail supports the public good and minimizes the public harm."
and at a state level The California Senate has voted to end the gig economy as we know it. Assembly Bill 5 seeks to re-classify drivers as employees and not independent contractors. That could mean Uber and Lyft have to pay minimum wage, benefits, etc. for hundreds of thousands of drivers. Estimates predict AB5 will cost Uber and Lyft $800 million per year. Assemblywoman Lorena Gonzalez author of the bill said:
"As lawmakers, we will not in good conscience allow free-riding businesses to continue to pass their own business costs onto taxpayers and workers. It's our job to look out for working men and women, not Wall Street and their get-rich-quick IPOs."
Uber, Lyft, and Doordash are spending $90 million to wreck the bill before it goes into effect. As with New Jersey the California effort strikes at the heart of the gig economy's business model. Uber and the rest exist as a gamble of arbitrage, an economic sleight of hand. Claim the people delivering your service are contractors not employees. That means you avoid costs like payroll taxes, disability insurance, and the rest.
Riders are starting to take notice. And are starting to look for alternatives. In London Bolt, Kapten, ViaVan and many more are picking up riders as Uber's future looks bleak. Each of these companies provide a similar app experience and level of service while offering lower prices AND better driver pay. But each are still predicated on that same arbitrage model. When will real innovation come?
Ride hailing is here to stay but it's freewheeling days are over. For 10 years Uber was able to literally write it's own rules. For 10 years Uber had unparalleled consumer goodwill. And despite fleecing its drivers more and more it was never able to make a profit. How will they now that drivers, riders, and cities are fighting back?
File under: #uber #gigeconomy #businessmodels #regulation
Next week: It's time to talk about Apple.
Thanks for reading 20 Minutes into the Future. Have a friend or colleague who'd like the newsletter? Invite them to sign up. Any friend of yours is a friend of mine. Good night, and good future.
---
20 Minutes into the Future is a critical look at how technology is shaping our lives today. And what actions we can take for a better tomorrow. If you you're not already a subscriber and found this newsletter worth your while then please sign up.
---
Daniel Harvey writes 20 Minutes into The Future. He is a product designer and has written for Fast Company, Huffington Post, The Drum, & more. If you're pissed about the current state of tech and want to see us do better then you've found a kindred spirit.
You can email him at daniel.harvey@gmail.com or follow him on Twitter @dancharvey.