The oncoming storm
Hello from 20 Minutes into the Future. Busy week so I have to skip the usual newsletter approach. Instead I wanted to give you a preview of upcoming editions.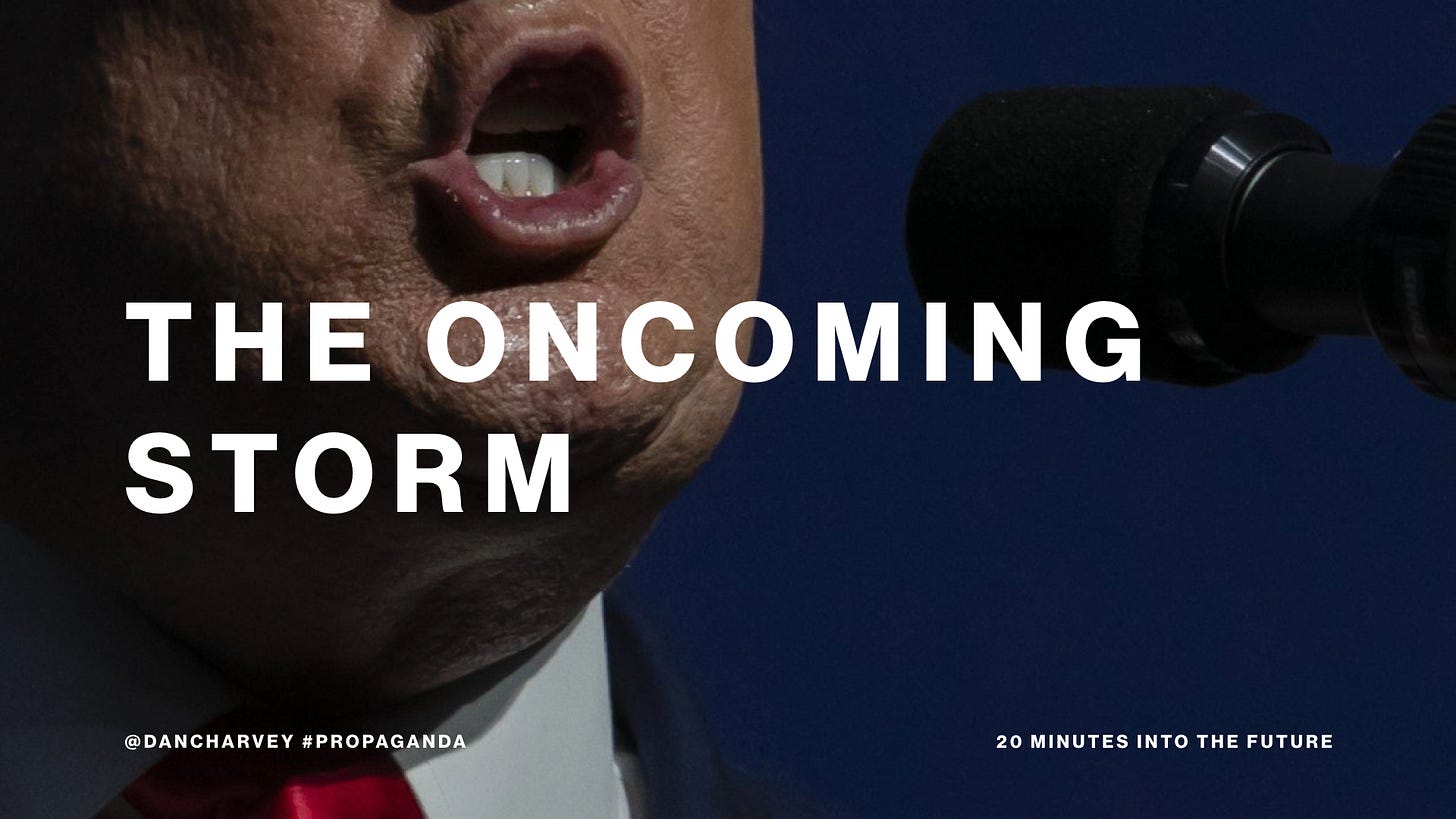 Regular readers will know propaganda is something I frequently write about. The disinformation campaigns for the 2020 US Presidential election are well underway. They need to be well understood as well.
In the next few weeks and months I'll be writing about:
The role twitterbots have played in climate coverage and recent elections

Vladislav Surkov and the role social media plays in his concept of non-linear war

The tech-enabled destruction of local news and the war on the press

What happens when the left fights fire with fire

How Mike Bloomberg's campaign is challenging big tech platforms and their policies
and likely more still.
If you haven't read prior editions on the theme then I'd encourage you to check out these stories from 20 Minutes into the Future:
Consider this your chaos tornado warning.
---
Thanks for reading 20 Minutes into the Future. Have a friend or colleague who'd like the newsletter? Invite them to sign up.

Good night and good future,
Daniel
---
20 Minutes into the Future is a critical look at how technology is shaping our lives today. And what actions we can take for a better tomorrow. If you're not already a subscriber and found this newsletter worth your while then please sign up.
---
My name is Daniel Harvey and I write 20 Minutes into the Future. I'm a product designer and have written for Fast Company, Huffington Post, The Drum, & more. If you're pissed about the current state of tech and want to see us do better then you've found a kindred spirit.
You can email me at daniel.harvey@gmail.com or follow me on Twitter @dancharvey.