Discover more from 20 Minutes into the Future
A critical look at how technology is shaping our lives today and what actions we can take for a better tomorrow.
Over 2,000 subscribers
6:30-min read
Hello from 20 Minutes into the Future. Democracy requires vigilance. Tonight we're looking at where the key players in the Cambridge Analytica scandal are today. And how the company has metastasised and remains a threat. Let's check in on the bastards…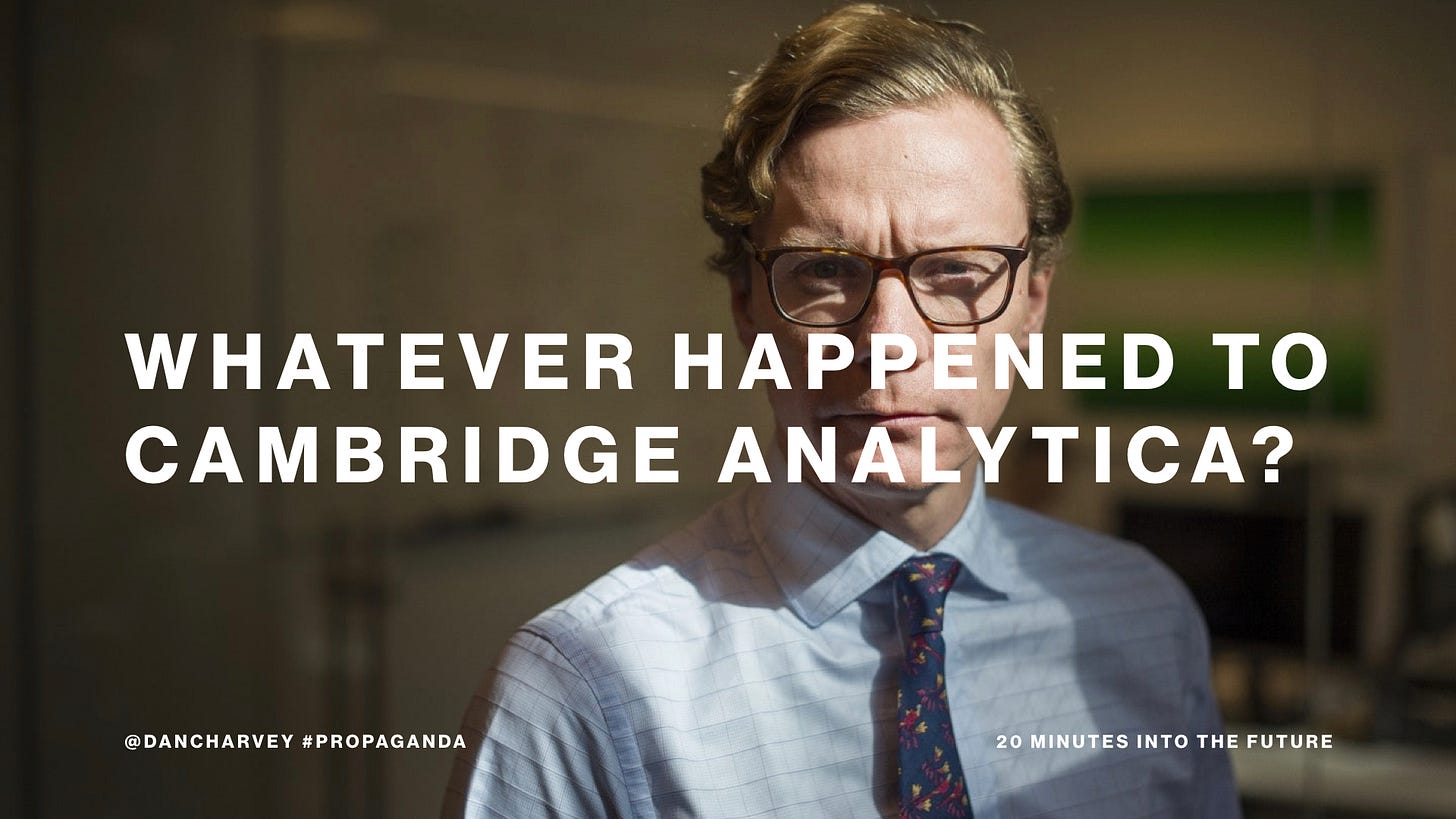 The C Suite & Directors
Alexander Nix was the CEO of Cambridge Analytica and held Director roles at related companies like Emerdata, Firecrest Technologies, and SCL. After a stunning expose by Channel 4 News he resigned/was ousted from these positions. He remains at large. Further this smarmy-ass motherfucker is still offered high-profile speaking opportunities. Because the ad industry is garbage.
Julian Wheatland was the COO & CFO of Cambridge Analytica and SCL Group. He was a founder and Director of Emerdata. He is doing a poor job trying to rebrand as someone who gives a damn about privacy. You'd be forgiven if you believe he's lying.
Nigel Oakes is the former TV & advertising executive that founded SCL decades ago. This motherfucker was running psy-ops before Nix was out of Eton. His reputation has largely gone unscathed. Since the scandal he has shifted his citizenship from the UK to the UAE. Nothing unusual about that.
Roger Michael Gabb, like the other prior bastards, was a Director at SCL. Prior to SCL he ran special forces in Borneo and Kenya. He was fined £1000 by the Electoral Commission for failing to properly attribute a Brexit ad he ran. It must have just ruined him financially. How could he ever recover?
Steve Bannon was a founder of Cambridge Analytica. Bannon also served as a Vice-President at the company. He transitioned from Cambridge Analytica to the White House. Internecine warfare inside the Oval Office forced Bannon out. Since then he has been providing "infrastructure" to populist white suprematist movements across the globe.
Alexander Tayler was the chief data officer of Cambridge Analytica and its acting CEO after Nix's departure. He briefly held director roles at Emerdata and Firecrest Technologies. He remains at large and, like Wheatland, tries to sell himself as a "privacy advocate."
Josh Weerasinghe previously served with Lt. Gen. Michael Flynn (more on him later) in the Office of the Director of National Intelligence/DNI. He was CEO of SCL Group in the US. He then went on to lead Anaxi Solutions. He's since moved on with several other Cambridge Analytica alumni to Integrated Systems Inc, a US government contractor. He's also currently listed as part of the leadership team for a cybersecurity firm called BayFirst.
Mark Turnbull was Managing Director of Cambridge Analytica. He had a starring turn in the Channel 4 expose. He has since co-founded Auspex International. The pitch for that company? "We're like Cambridge Analytica but ethical." Get the fuck out with this horseshit.
Ahmed Al-Khatib was yet another director of Emerdata. He's since co-founded Auspex International. He serves as that company's Managing Director.
Johnson Chun Sun Ko was, you guessed it, a director of Emerdata. He's also Executive Director & Deputy Chairman of Frontier Services Group. FSG is part of Erik Prince's post-Blackwater private mercenary services.
Jacquelyn James-Varga is a Mercer loyalist who became a director of Emerdata.
---
Not a subscriber yet? 20 Minutes into the Future is 100% ad free and always will be. Sign up for weekly commentary & related links to help you dig deeper into big tech behaving badly.
---
The Investors & The Academics
Vincent Tchenguiz was once the largest single shareholder in SCL Group. He has extensive ties to Black Cube, the private intelligence agency created by members of various Israeli spy agencies. Black Cube was most recently in the news for their work for Harvey Weinstein. Tchenguiz is also a real estate mogul who's properties are made of the same hazardous materials that led to the tragic Grenfell Tower fire. He and his brother have been arrested on serious fraud charges in the past but were shamefully never convicted.
The Mercer Family (Robert, Rebekah, & Jennifer) were significant investors in SCL and Cambridge Analytica. Robert invested a minimum of $15 million. He was a founder of Cambridge Analytica. Rebekah and Jennifer went on to become Directors at Emerdata. They are still using their vast fortunes to topple Democracies.
Aleksandr Kogan aka Dr. Spectre (I shit you not. You cannot make this shit up) was one of the data scientists behind the "thisismydigitallife" Facebook quiz that generated the dataset Cambridge Analytica used in the Trump and Brexit campaigns. He is currently involved in defamation of character lawsuits against Facebook.
Joseph Chancellor was co-founder and equal co-owner of Global Science Research alongside Kogan. After their data harvest via "thisismydigitallife", Chancellor went on to actually work for Facebook. Let that sink in for a second or two. In September 2018, a Facebook spokesperson said, "I can confirm that Joseph Chancellor is no longer employed by Facebook, and we wish him all the best." I wish him all the best getting hit by a truck crossing the street.
---
Sick and tired of big tech behaving badly? 20 Minutes into the Future is about holding the bastards to account. One way we can do that is by spreading the word of their misdeeds.
---
The Henchmen & Cronies
Matt Oczkowski was head of product at Cambridge Analytica. He co-founded Data Propria with Brad Parscale and serves as its President. That company is home to several ex-Cambridge Analytica staffers like data scientist David Wilkonson. Data Propria is actively working with the 2020 Trump campaign.
Brad Parscale was digital media director for Trump's 2016 presidential campaign. He was responsible for hiring Cambridge Analytica. He purportedly didn't put much stock in their "psychographic" approach and refutes their role in Trump's success. Instead citing his own work around building the "Project Alamo" dataset and its micro-targeting efforts. Parscale has never said to what degree the Cambridge Analytica dataset played in bootstrapping Project Alamo.
Parscale has since been promoted within Trumpworld. He is now the overall Campaign Manager for Trump's 2020 re-election campaign. He is also a director at Data Propria. And is part-owner of CloudCommerce which is the parent company of Data Propria and Parscale Digital. As a result of that Russian doll nesting, Parscale is getting paid multiple times over by Trump.
Lt. Gen. Michael Flynn was an advisor to Cambridge Analytica during the 2016 Trump campaign. Flynn became a critical part of the Mueller investigation, even pleading guilty to related charges in 2017. Flynn was due to be sentenced on 27 Feb 2020 but that has been postponed "until further order of the court."
The Whistleblowers
Christopher Wylie was the first whistleblower to come forward about Cambridge Analytica. Prior to that he was part of the data science team at the company. Today he's working as a research director at high street retailer H&M.
Brittany Kaiser was a director of business development working with Nix. Her story is central to The Great Hack. On New Year's Day she was responsible for leaking internal documents about Cambridge Analytica's role in elections in Brazil, Kenya, and Malaysia.
---
I'd love to hear from you. If you're a subscriber then you can reply to this email or leave a comment on the web post. Cheers.
---
The Companies
SCL and many of its facets has since been dissolved.
Cambridge Analytica is in liquidation.
Emerdata is still active. It owns most of SCL's and Cambridge Analytica's assets. It exists primarily to shield the dissolved and liquidated companies from liability and further scrutiny.
Firecrest Technologies was a subsidiary of Emerdata. Its stated focus was "business and domestic software."It seems to have been dissolved.
Anaxi Holdings and Anaxi Solutions were also subsidiaries of Emerdata. The latter's focus was to be "provisioning communication services for election campaigns." They "sought government contracts in the information technology, defense, and law enforcement sectors." I think they're non-defunct but can't say for certain. If you know better do drop me a reply or comment.
Auspex International is an active data consultancy with a focus in Africa.
CloudCommerce owns both Parscale Digital and Data Propria. Data Propria is the most likely heir to Cambridge Analytica. They worked on Illinois Republican Bruce Rauner's failed gubernatorial bid, they contracted with the RNC for Republican 2018 midterm elections, and are now working for Trump 2020.
In Conclusion
Wendy Siegelman (with support from Ann Marlow), a freelance journalist for Buzzfeed and The Guardian has done impressive work tracking all of these movements. From SCL's web of companies and shareholders to Emerdata. These bastards are counting on us to stop caring. Let's prove them wrong. Be vigilant.
---
Dig deeper with these stories from across the web:
---
Thanks for reading 20 Minutes into the Future. Have a friend or colleague who'd like the newsletter? Invite them to sign up.

Good night and good future,
Daniel
---
20 Minutes into the Future is a critical look at how technology is shaping our lives today. And what actions we can take for a better tomorrow. If you're not already a subscriber and found this newsletter worth your while then please sign up.
---
My name is Daniel Harvey and I write 20 Minutes into the Future. I'm a product designer and have written for Fast Company, Huffington Post, The Drum, & more. If you're pissed about the current state of tech and want to see us do better then you've found a kindred spirit.
You can email me at daniel.harvey@gmail.com or follow me on Twitter @dancharvey.