Discover more from 20 Minutes into the Future
A critical look at how technology is shaping our lives today and what actions we can take for a better tomorrow.
Over 2,000 subscribers
10 stories this week (w/e 11 Apr)
3:30-min read
Hello from 20 Minutes into the Future. The new job (I'm working at a health tech startup) was insanely busy so there was no usual weekly commentary. Between that and general pandemic stress I suspect that might continue to be spotty for a bit. Apologies. You can however also find me over at Nothing Here and as per usual below you'll find 10 links to stories that also take a critical look at how technology is shaping our lives today.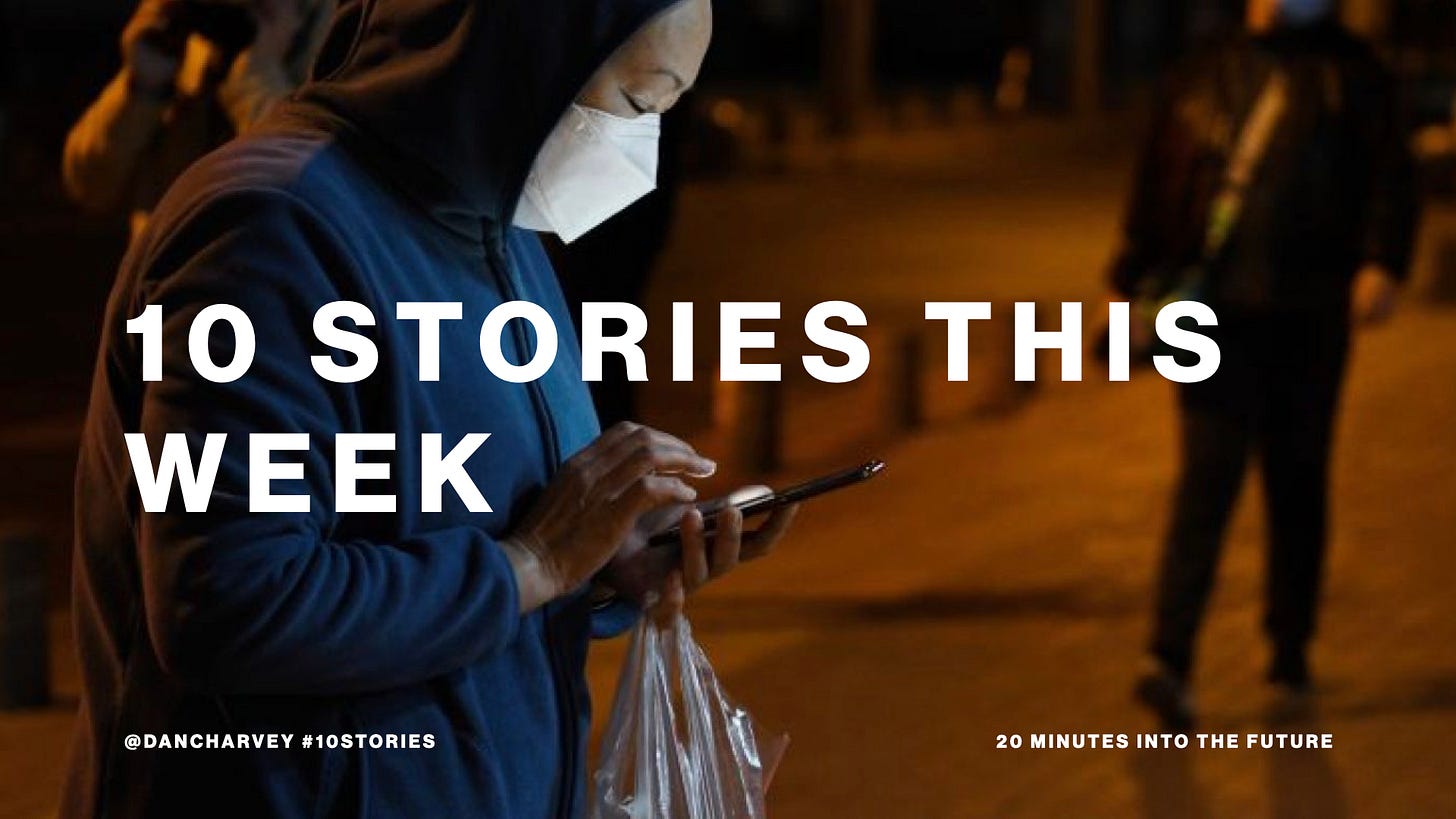 ⓵ Sam Biddle interviews privacy advocates at the ACLU, EFF, and more to arrive at a short list of privacy-preserving recommendations to handling the pandemic. Remember — anyone that tells you privacy and the public health are somehow mutually exclusive is trying to sell you something. We can have both.
https://theintercept.com/2020/04/02/coronavirus-covid-19-surveillance-privacy/
⓶ Good read from Alexis Lloyd that was new to me this week. Contains a short shout-out to society-centered design.
Like many designers, I've been trained in the idea that user-centered design is a humane and ethical approach to design. It is rooted in empathy for people, therefore it helps us create beneficial experiences for people, therefore it is good for society. But who is the user we're designing for? In most cases, that user tends to be synonymous with the consumer, the person with the purchasing power.
https://medium.com/@alexislloyd/design-for-systems-not-users-4e261aa4714d
⓷ CJR held a roundtable recently to ask what more the platforms could do to fight misinformation.
Among the other recommendations made by Goodman and Kornbluh in their paper are regulations similar to the campaign finance act that require the platforms to reveal who funds political advertising, as well as pressure on the digital giants to modify the "dark patterns" of user-interface design that make it difficult for users to find information, but make it very easy for them to share disinformation without checking it.
https://www.cjr.org/the_media_today/google-facebook-disinformation.php
⓸ Yves Smith at Naked Capitalism asks "AirBnB Has Been Rocked by COVID-19. Do We Really Want To See It Recover?" I suspect you can guess my answer to that question…
https://www.nakedcapitalism.com/2020/04/airbnb-has-been-rocked-by-covid-19-do-we-really-want-to-see-it-recover.html
---
Not a subscriber yet? 20 Minutes into the Future is 100% ad free and always will be. Sign up for weekly commentary & related links to help you dig deeper into big tech behaving badly.
---
⓹ Bezos' bloodthirsty treatment of workers in the before-times was unconscionable. It's perhaps even worse now. Amazon workers have been fighting tooth and nail to get even the most basic safety precautions.
https://slate.com/technology/2020/04/amazon-fulfillment-center-strike-staten-island-michigan.html
⓺ "More than three-quarters of adults believe social media companies are not doing enough to curb online abuse, according to a new poll for an anti-bullying campaign group. The poll, by YouGov for Clean Up The Internet, also found four in five adults think these firms should face fines if they do not act against abuse."
https://www.theguardian.com/technology/2020/apr/04/social-media-giants-must-tackle-trolls-or-face-charges-poll
⓻ I've been working on a draft for a weekday piece that looks at coronavirus conspiracism. It would have to feature snake-peddling fear merchants like Mark Steele. This 5G conspiracy has a long and bizarre history behind it.
https://www.buzzfeednews.com/article/ryanhatesthis/coronavirus-5g-conspiracy-profit
⓼ Nadella is right. Tech absolutely does owe something back to society. One way Microsoft could pay back society is to stop working with ICE.
https://www.fastcompany.com/90486051/satya-nadella-absolutely-tech-does-owe-something-back-to-the-society
---
Sick and tired of big tech behaving badly? 20 Minutes into the Future is about holding the bastards to account. One way we can do that is by spreading the word of their misdeeds.
---
⓽ This is huge. Apple and Google are teaming up to bring contact tracing to their respective OSes. I need to dig a lot deeper into this than what I've read so far but on the surface this looks like it would be privacy-preserving.
https://www.bbc.co.uk/news/technology-52246319
⓾ Fantastic segment from John Oliver on One America News Network. If you thought Fox News was bad just wait til you get a load of these assholes. Keep them on your #bastardwatch.
---
Dig deeper with these stories from 20 Minutes into the Future:
---
Thanks for reading 20 Minutes into the Future. Have a friend or colleague who'd like the newsletter? Invite them to sign up.  

Good night and good future, 
Daniel
---
20 Minutes into the Future is a critical look at how technology is shaping our lives today. And what actions we can take for a better tomorrow. If you're not already a subscriber and found this newsletter worth your while then please sign up.
---
My name is Daniel Harvey and I write 20 Minutes into the Future. I'm a product designer and have written for Fast Company, Huffington Post, The Drum, & more. If you're pissed about the current state of tech and want to see us do better then you've found a kindred spirit.
You can email me at daniel.harvey@gmail.com or follow me on Twitter @dancharvey.