Discover more from 20 Minutes into the Future
A critical look at how technology is shaping our lives today and what actions we can take for a better tomorrow.
Over 2,000 subscribers
I hear you by Ummi Jameel
7:39-min read
Hello from 20 Minutes into the Future. In this edition I'm here to listen. I've asked designer Ummi Jameel to write the main feature. In it, she's taking a look at how big tech is failing to consider our mental health and what small steps we can take to make things better.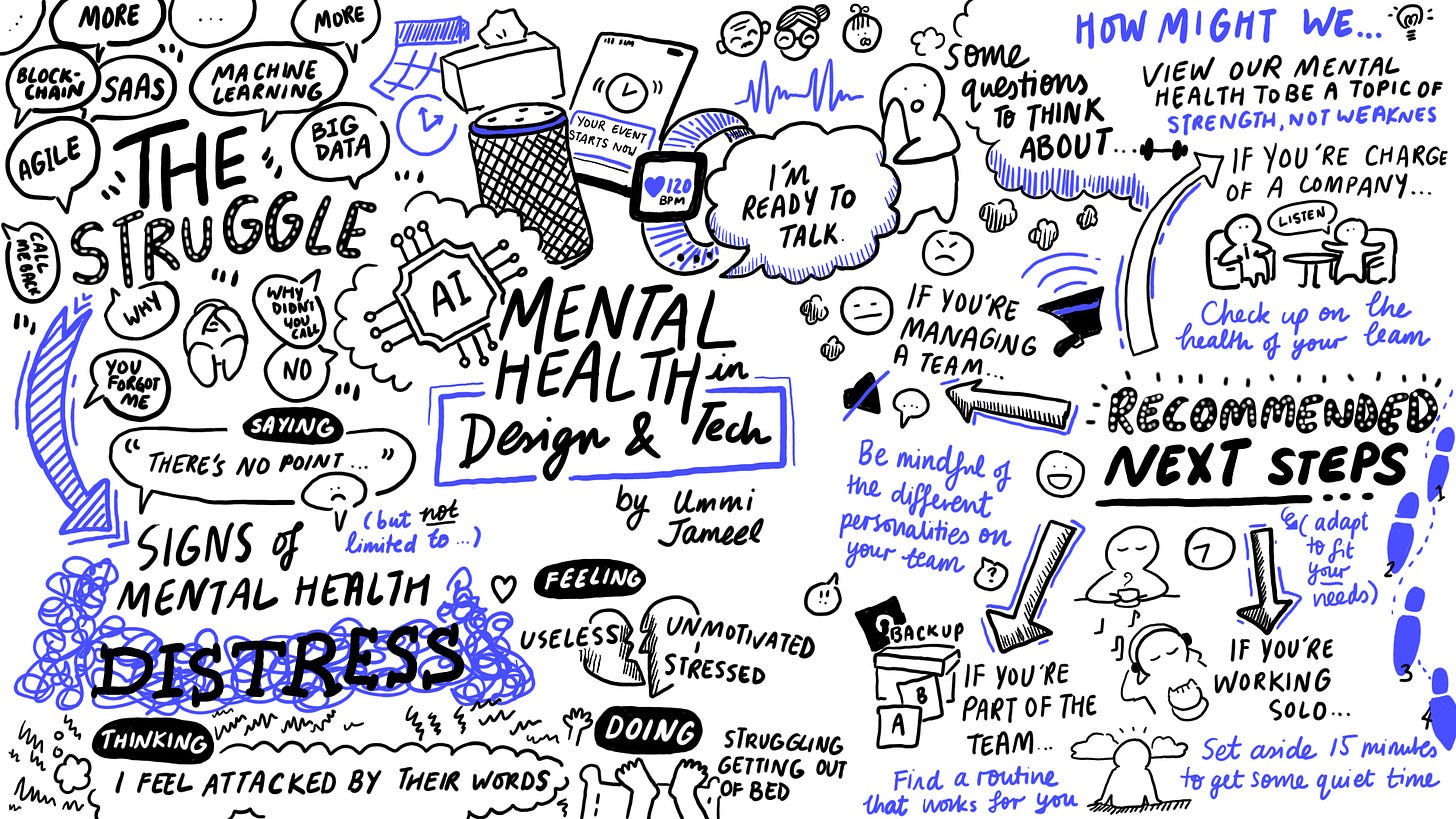 I hear you
We are forever chasing the next big thing; from big data, AI, machine learning, Blockchain. We're all working on our screens for long periods of time, we often forget about the toll this has on us.
Building intuitive design and technology that utilises our data to recommend things to 'better improve our lifestyle' is something we're great at. But we often fail at taking care of our own mental health and lifestyle. 
Alexa can order new boxes of tissues when they're running out, but Alexa won't know how to comfort the pain of a couple experiencing the challenges of a long-distance relationship. An owner can set alarms to ensure a timely entrance for a meeting, but the owner may not remember to set time for themselves. The Fitbit can track our heart beat, but it can't remind us of the heart beats of our loved ones. 
With all that is happening in the world, it's said that mental health conditions are increasing. Even those who do not have a history of mental health are experiencing what some are referring to as "Lockdown Anxiety". We're facing uncertain times, unable to be with our loved ones, growing stressed over job uncertainties, and immense isolation. 
We all struggle with this, in different forms. Some more outwards or inwards than others. And even though self-care and self-love is a "thing", social media has in some way mainstreamed this idea. It's more than a spa day, or selfies. And in the design and tech world we may not give enough space to truly explore our mental health and care.
Coming from a mixed South Asian background, mental health didn't exist. You were either healthy, or not. This made me ashamed to talk about how I felt and what I was feeling. Even now, I fear of being isolated, or being seen by future companies as "being weak" or unprofessional. Another friend hides their mental health from work, saying "They don't need to know, it doesn't concern them." Yet we exist in a world where we're supposed to keep "trucking on" and stay strong, but we can't. 
There's no need to buy an abundance of counselling sessions or undergo expensive retail therapy. Instead, consider looking at this from a human-centred lense. What we need to do is give ourselves the permission and the space we need to recover. These steps take time. By stifling our feelings, opinions and voices, we're not being inclusive enough. This, in turn, affects our mental health.
Some signs of mental health distress (but are not limited to) include:
THINKING: "I feel attacked by their words.. I don't have anywhere to go"

FEELING: "Useless, unmotivated, stressed"

SAYING: "there's no point, as the company isn't going to listen or take notice of me anyway."

DOING: "struggling getting out of bed

HAVING: "up and down emotions"

SEEING: "The sight and sound of your colleagues trigger you"
Knowing these signs, what can we do?
Here are some recommendations that you can take forward to use to take control. 
If you're in charge of a company…
GOOD Check up on the health of your team
BETTER Make actionable outcomes on those employee surveys
BEST Connect with them 1:1 and make them feel valued and heard. Personalise, Don't generalise.
If you're managing a team…
GOOD Respect the boundaries that each person has chosen to set 
"Do you feel comfortable talking?"
BETTER Create a trusted and safe space for your team - Mind your language. Keep it open
BEST Understand their individual personalities and embrace them as such. One advice doesn't fit all so be mindful
If you're part of the team…
GOOD If you're comfortable to do so, find someone to confide in
BETTER Search for ways to ask for personal time when you're feeling down so you can bounce back
BEST Find a routine that works for you when you're feeling down. You don't have to force yourself to be someone you're not - don't be an extrovert if you're not. Be an introvert if that's who you are!
If you're working alone...
GOOD Set aside 15 minutes in intervals to have some fresh air or quiet meditative thoughts.
BETTER Build a community where you can get and give support. Sometimes the one thing that helps you is when you help others.
BEST Identify your triggers and track for patterns. What was said or done for you to feel this way? How can we avoid this from happening again? What can you do to bring yourself back up when this happens?
We, as designers, developers and technologists should also be working on designing, creating and building better tools to support our mental health.
Consider a future where cognitive technologies like Alexa or Google Home are able to call a comforting friend when the owner is anxious. Or wearable technology that assists in meditative and breathing techniques, personalised to it's wearer's preference.
With that in mind, I would like to leave some questions to ponder upon:
How might we view our mental health to be a topic of strength, not weakness?

How can we, as designers and technologists, build more intuitive human centred mental health tools?

What analogous experiences can we take inspiration from to create a more human work environment and culture?
I end this with a beautiful quote:  
"I will never understand what you're going through, but I see you, hear you and value you."
Dig deeper
You can read more about how big tech and bad actors work to drive us all to the brink and how we can fight back with these stories from the 20 Minutes into the Future archive:
---
Not a subscriber yet? 20 Minutes into the Future is 100% ad free and always will be. Sign up for weekly commentary & related links to help you dig deeper into big tech behaving badly.
---
10 stories this week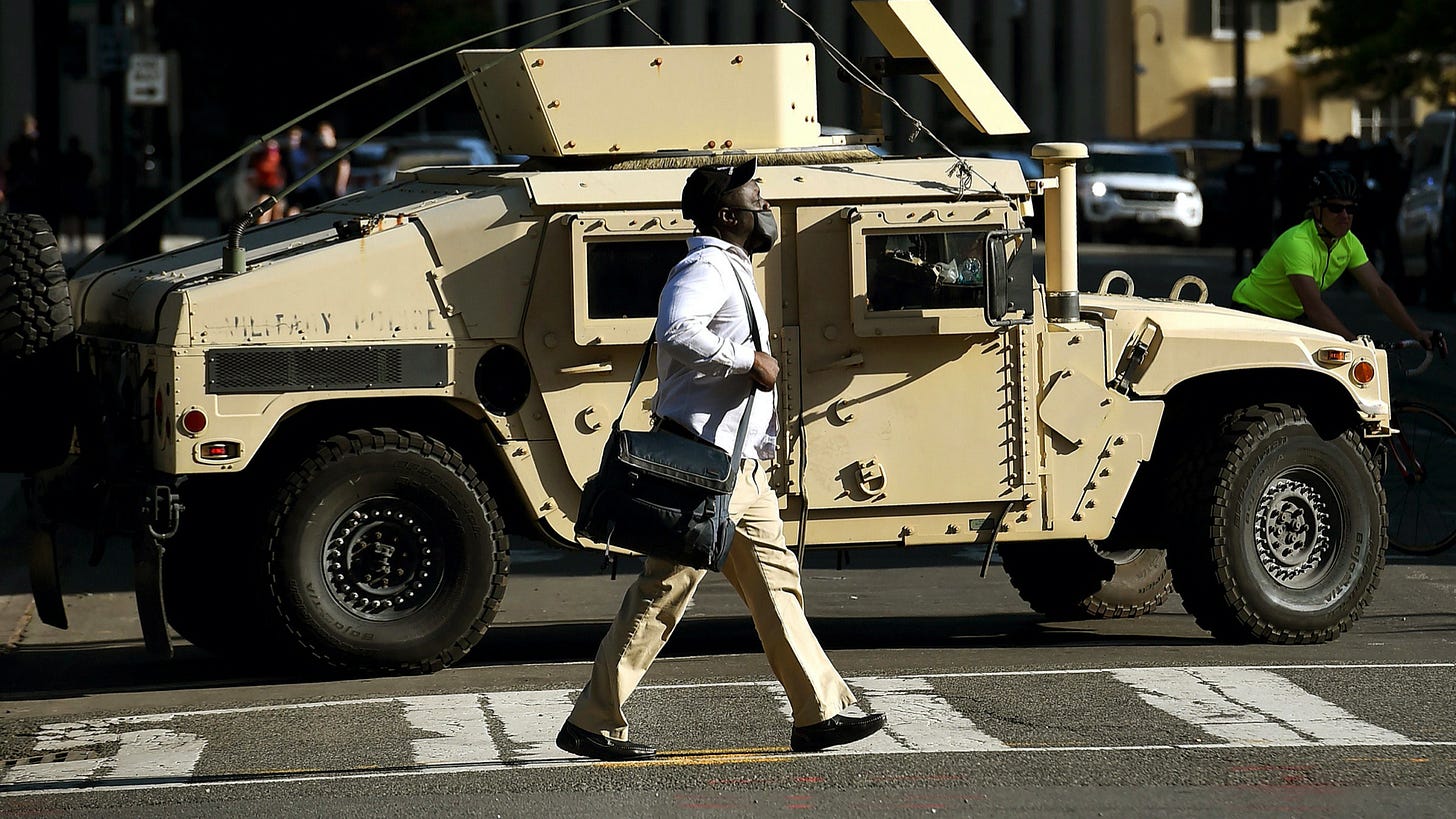 ---
Sick and tired of big tech behaving badly? 20 Minutes into the Future is about holding the bastards to account. One way we can do that is by spreading the word of their misdeeds.
---
Bastard watch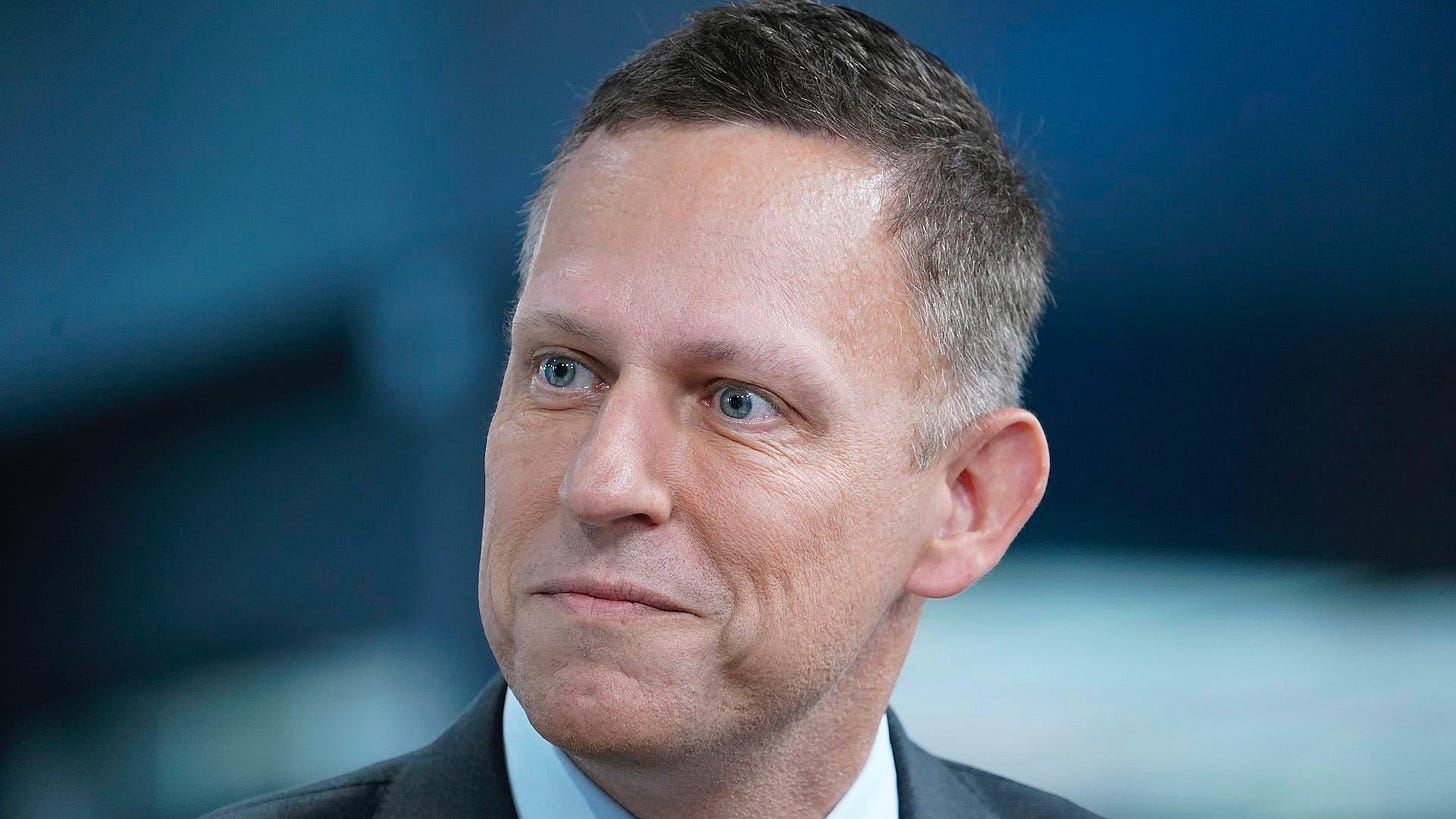 Peter Thiel is one of the worst bastards working in tech today. He fervently believes freedom and Democracy are incompatible (because regulations stop him from making as much money as he would like). His company, Palantir, is directly responsible for putting brown kids in cages, enabling police brutality, and data mining UK public health data to fuel his evil ambitions.
Kindred spirits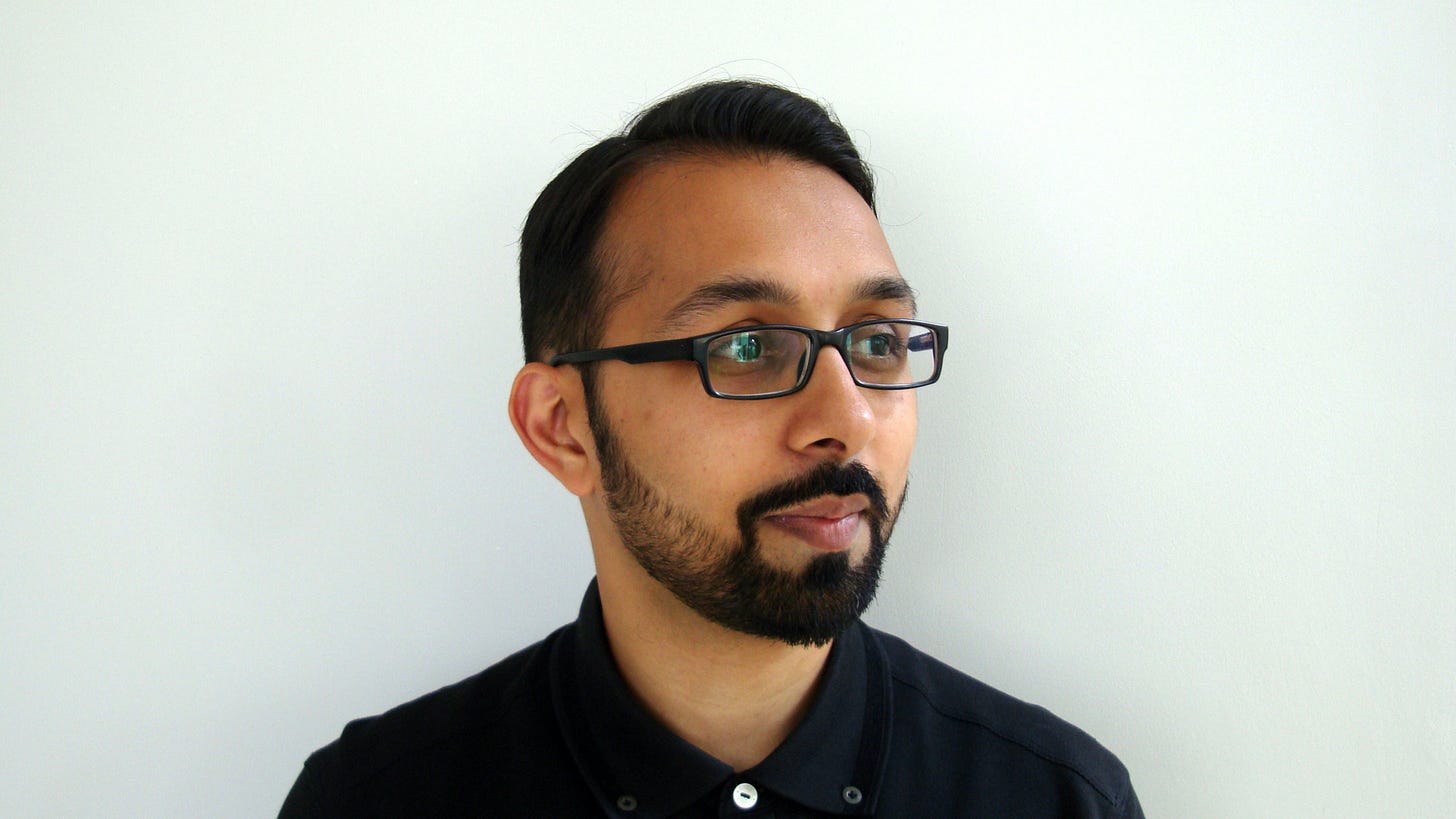 Umesh Pandya is one of my design heroes. During his time at the legendary UsTwo, he co-founded Wayfinder, a service to help the blind navigate the London Underground. Since then he's helped other social businesses in partnership with the excellent Bethnal Green Ventures and his own Social Venture Canvas.
Check out Wayfinder to get a sense of the kind of good Ume helps bring into the world.
We need more Umeshs and less Peters working in tech today if we want a better tomorrow.
---
Thanks for reading 20 Minutes into the Future. Have a friend or colleague who'd like the newsletter? Invite them to sign up.

Good night and good future,
Daniel
---
20 Minutes into the Future is a critical look at how technology is shaping our lives today. And what actions we can take for a better tomorrow. If you're not already a subscriber and found this newsletter worth your while then please sign up.
---
My name is Daniel Harvey and I write 20 Minutes into the Future. I'm a product designer and have written for Fast Company, Huffington Post, The Drum, & more. If you're pissed about the current state of tech and want to see us do better then you've found a kindred spirit.
You can email me at daniel.harvey@gmail.com or follow me on Twitter @dancharvey.