Discover more from 20 Minutes into the Future
A critical look at how technology is shaping our lives today and what actions we can take for a better tomorrow.
Over 2,000 subscribers
Big Tech's big inclusion problem
Hello from 20 Minutes into the Future. This week's letter is 901 words, a 3 1/2 minute read. Happy Black History Month. Tonight we'll be taking a critical look at inclusion in big tech. What's working, what's not working, and what could be next.
Let's start with a clarifying quote:
"Diversity is being invited to the party; inclusion is being asked to dance." Verna Myers, Esq.
That's from Moving Diversity Forward: How to Go From Well-Meaning to Well-Doing.In it, Myers took well-meaning diversity initiatives to task for not being enough. And how could they be after centuries of systemic oppression?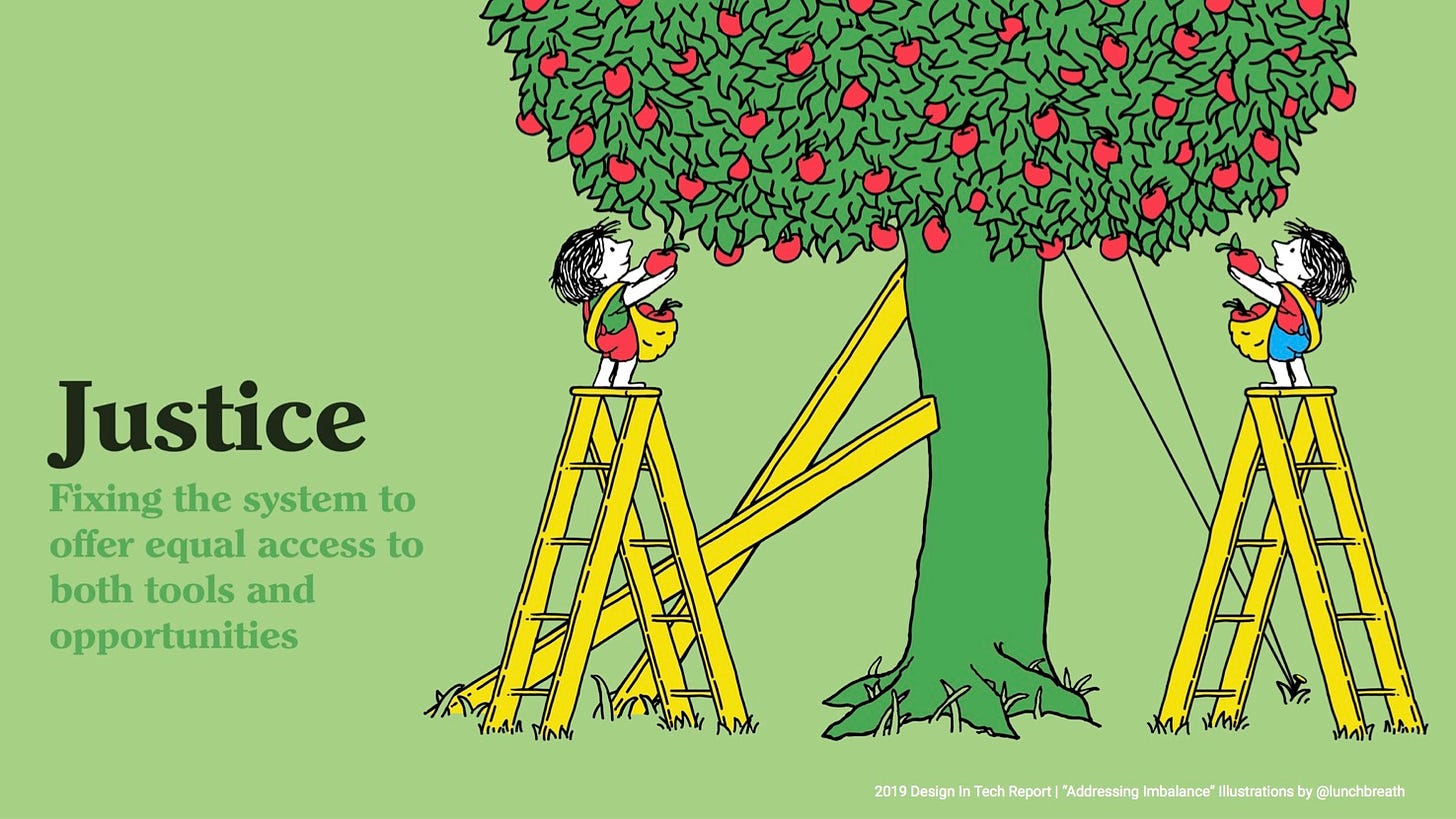 Inclusion is about more than numbers and percentages. It's about economic justice. We need to tear down the old corporate systems that enable inequality. And build new systems that "offer equal access to both tools and opportunities."
Deloitte research show that inclusive businesses are:
8x more likely to achieve better business outcomes

6x more likely to be innovative and agile

2x more likely to meet or exceed financial targets

have much higher employee retention rates
Other research shows that inclusive teams are smarter. And still more show better company performance correlates with improved inclusion. Big tech companies have spent the last five years trying to improve diversity:
Many have hired "chief diversity officers." (Most last less than 2 years before quitting. Google is on their third since 2016.)

Google invested $25 million to give black students more exposure to computer science

Google created one-year residencies for juniors at historically black colleges

Apple partners with the Thurgood Marshall College Fund

Facebook has invested in training programs, internships, and projects like TechPrep
Blacks make up 13% of the population in the US (and UK). Google, Microsoft, Apple, and others have been publishing annual "transparency reports" since 2014. In that time the share of black technical workers hasn't changed much at all:
Apple 2014: 6% →Apple 2018: 6%

Facebook 2014: 1% → Facebook 2018: 2%

Google 2014: 1% → Google 2018: 3%

Microsoft 2014: 2% → Microsoft 2014: 3%

And it is no better at newer companies like Airbnb, Pinterest, Lyft, Uber and Slack.
Maxine Williams, Facebook's chief diversity officer says,
"these are long-term investments. We have to wait until those high school and college students graduate and apply for jobs to reap the benefits of these programs."
And that's true. But that's setting us up for what Freada Kapor Klein calls a "denominator problem."
"The firms' workforces have grown significantly since 2014—meaning they had to hire thousands of women and racial and ethnic minorities just to maintain the historical diversity of their staff. Facebook, for example, more than quadrupled its head count over that period, to 39,651 at the end of June."
And that "denominator problem" is of course exacerbated by retention problems. In 2017, The Kapor Center surveyed "2,000+ tech employees who left their jobs, and found many people of color felt they had unfairly been passed over for a promotion or faced stereotyping." That's no surprise given the culture of bias baked into these companies:
Ellen Pao sums up the current state of affairs by saying
"Companies are treating it as a PR crisis and strategy. It's not an operational imperative to them so you don't see much change. You see the constant problems coming up again and again."
If companies don't make bolder AND more immediate investments than they'll never catch up. And we'll never create new systems that embody economic justice. So what more can be done?
Any of those efforts would be a stark improvement.
Thanks for reading 20 Minutes into the Future. Have a friend or colleague who'd like the newsletter? Invite them to sign up. Any friend of yours is a friend of mine. Good night, and good future.
File under: #bigtech #economicjustice #diversity #inclusion
Next week: We need to talk about Uber.
---
20 Minutes into the Future is a critical look at how technology is shaping our lives today. And what actions we can take for a better tomorrow. If you you're not already a subscriber and found this newsletter worth your while then please sign up.
---
Daniel Harvey writes 20 Minutes into The Future. He is a product designer and has written for Fast Company, Huffington Post, The Drum, & more. If you're pissed about the current state of tech and want to see us do better then you've found a kindred spirit.
You can email him at daniel.harvey@gmail.com or follow him on Twitter @dancharvey.