10 stories this week (w/e 21 Mar)
3:15-min read
Hello from 20 Minutes into the Future. Welcome to our weekend complement to the normal weekly commentary. Below you'll find 10 links to stories that also take a critical look at how technology is shaping our lives today.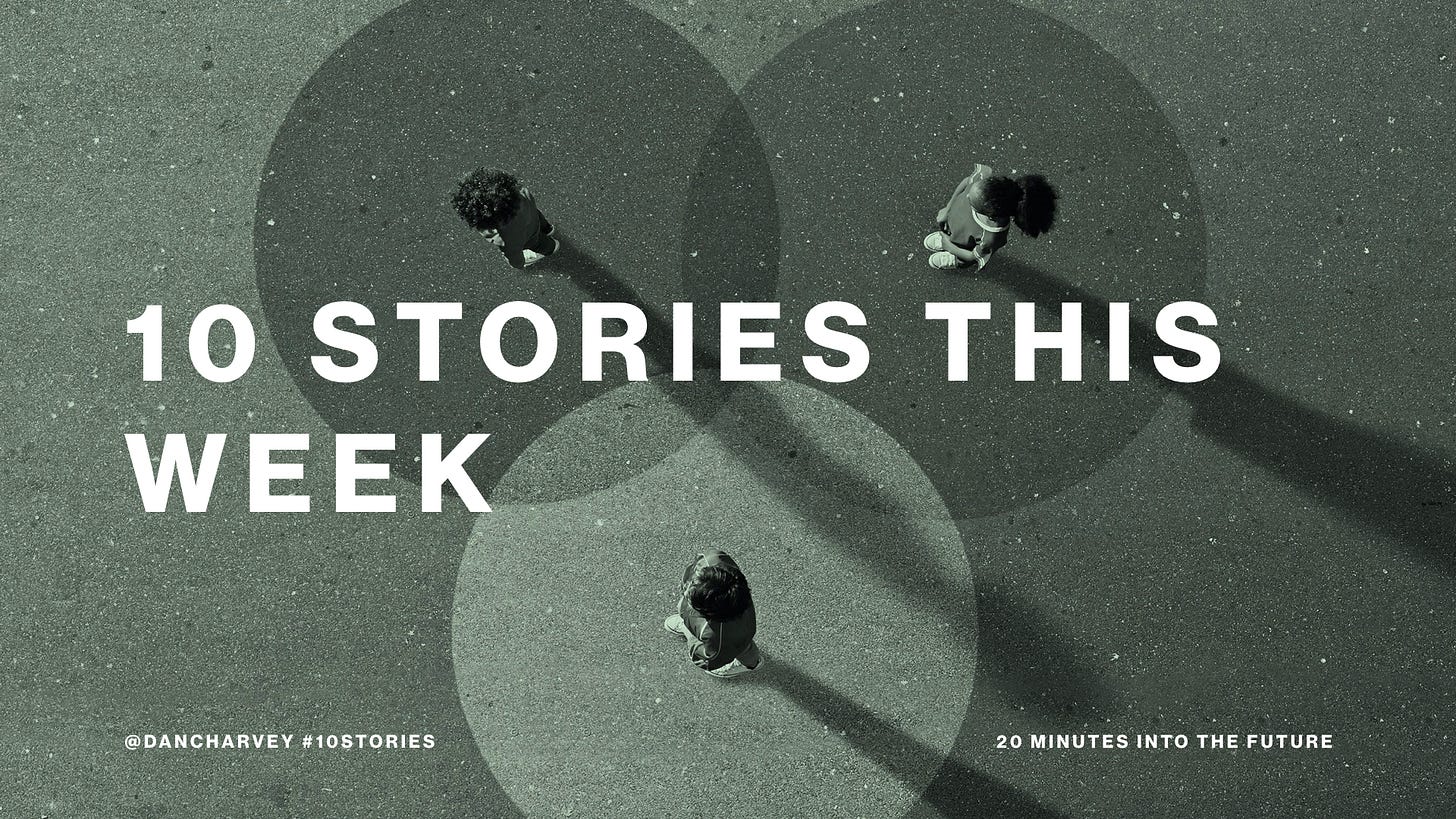 ⓵ Yep — "But a report published this morning by Ranking Digital Rights makes the case that Facebook's current moderation approach may be unable to meaningfully address the problem. According to the researchers, the problem is rooted in Facebook's business model: data-targeted ads and algorithmically optimized content."
https://www.theverge.com/2020/3/17/21183341/facebook-misinformation-report-nathalie-marechal
⓶ ArsTechnica revisits a 2007 paper that modelled how poor population behaviours spread disease. That paper? Based on World of Warcraft's "Corrupted Blood" pandemic from 2005.
https://arstechnica.com/science/2020/03/that-time-world-of-warcraft-helped-epidemiologists-model-an-outbreak/
⓷ "We all want things to go back to normal quickly. But what most of us have probably not yet realized—yet will soon—is that things won't go back to normal after a few weeks, or even a few months. Some things never will."
https://www.technologyreview.com/s/615370/coronavirus-pandemic-social-distancing-18-months/
⓸ "For many centuries, the conflict driving the plot engine of the human race has been the tension between individualism and collective behavior—between the goal of independent flourishing and the concept of the common good. As a species, we have spent several centuries nurturing a collective mindset that rejects collective endeavor, and most of us are living in nations that seem perilously convinced that the human race is a thing you can actually win."
https://www.wired.com/story/what-coronavirus-pandemic-says-about-society/
---
Not a subscriber yet? 20 Minutes into the Future is 100% ad free and always will be. Sign up for weekly commentary & related links to help you dig deeper into big tech behaving badly.
---
⓹ Telemedicine provides convenience and access for people and healthcare professionals during the best of times. During the worst of times it can become a vital safety net.
https://www.wired.com/story/telemedicine-safety-valve-strained-health-care-system/
⓺ Jeff Bezos could give unlimited sick leave to the workers across his empire. Instead workers are Whole Foods are being asked to donate their stick time to a pool others can use. This is going to put workers at risk. But Bezos has proven he's ok with blood on his hands. Fuck Bezos.
https://www.nakedcapitalism.com/2020/03/grotesque-level-of-greed-owned-by-worlds-richest-man-jeff-bezos-whole-foods-wants-workers-to-pay-for-colleagues-sick-leave-during-coronavirus-pandemic.html
⓻ TikTok's content guidelines treat the poor differently. Moderators are told to ban videos from the For You section if they are shot in "slums" or in "dilapidated housing" or are from "people who appear to be poor". Fuck TikTok
https://www.theverge.com/2020/3/16/21181496/tiktok-ugly-poor-users-no-promotion-guidelines-leak
⓼ There are ways that we can stop the spread of Covid-19 AND still preserve our privacy. You shouldn't have to give Google all your health data. Data describes the many not just the individual. We need to stop looking at privacy as an individual luxury or right. It's a collective right.
https://www.technologyreview.com/s/615372/coronavirus-infection-tests-app-pandemic-location-privacy/
---
Sick and tired of big tech behaving badly? 20 Minutes into the Future is about holding the bastards to account. One way we can do that is by spreading the word of their misdeeds.
---
⓽ Hospitals needed valves. Suppliers had run out. The Milan FabLab stepped in and saved 10+ lives. Score one for the good guys right? Now they're being sued.
https://www.3dprintingmedia.network/covid-19-3d-printed-valve-for-reanimation-device/
⓾ I know Lanier can be a bit marmite but when he's right, he's right — "AI" is best understood as a political and social ideology rather than as a basket of algorithms. The core of the ideology is that a suite of technologies, designed by a small technical elite, can and should become autonomous from and eventually replace, rather than complement, not just individual humans but much of humanity."
https://www.wired.com/story/opinion-ai-is-an-ideology-not-a-technology/
---
Dig deeper with these stories from 20 Minutes into the Future:
---
Thanks for reading 20 Minutes into the Future. Have a friend or colleague who'd like the newsletter? Invite them to sign up.  

Good night and good future, 
Daniel
---
20 Minutes into the Future is a critical look at how technology is shaping our lives today. And what actions we can take for a better tomorrow. If you're not already a subscriber and found this newsletter worth your while then please sign up.
---
My name is Daniel Harvey and I write 20 Minutes into the Future. I'm a product designer and have written for Fast Company, Huffington Post, The Drum, & more. If you're pissed about the current state of tech and want to see us do better then you've found a kindred spirit.
You can email me at daniel.harvey@gmail.com or follow me on Twitter @dancharvey.