10 stories this week (w/e 01 Feb)
2:30-min read
Hello from 20 Minutes into the Future. Welcome to our weekend complement to the normal weekly commentary. Below you'll find 10 links to stories that also take a critical look at how technology is shaping our lives today.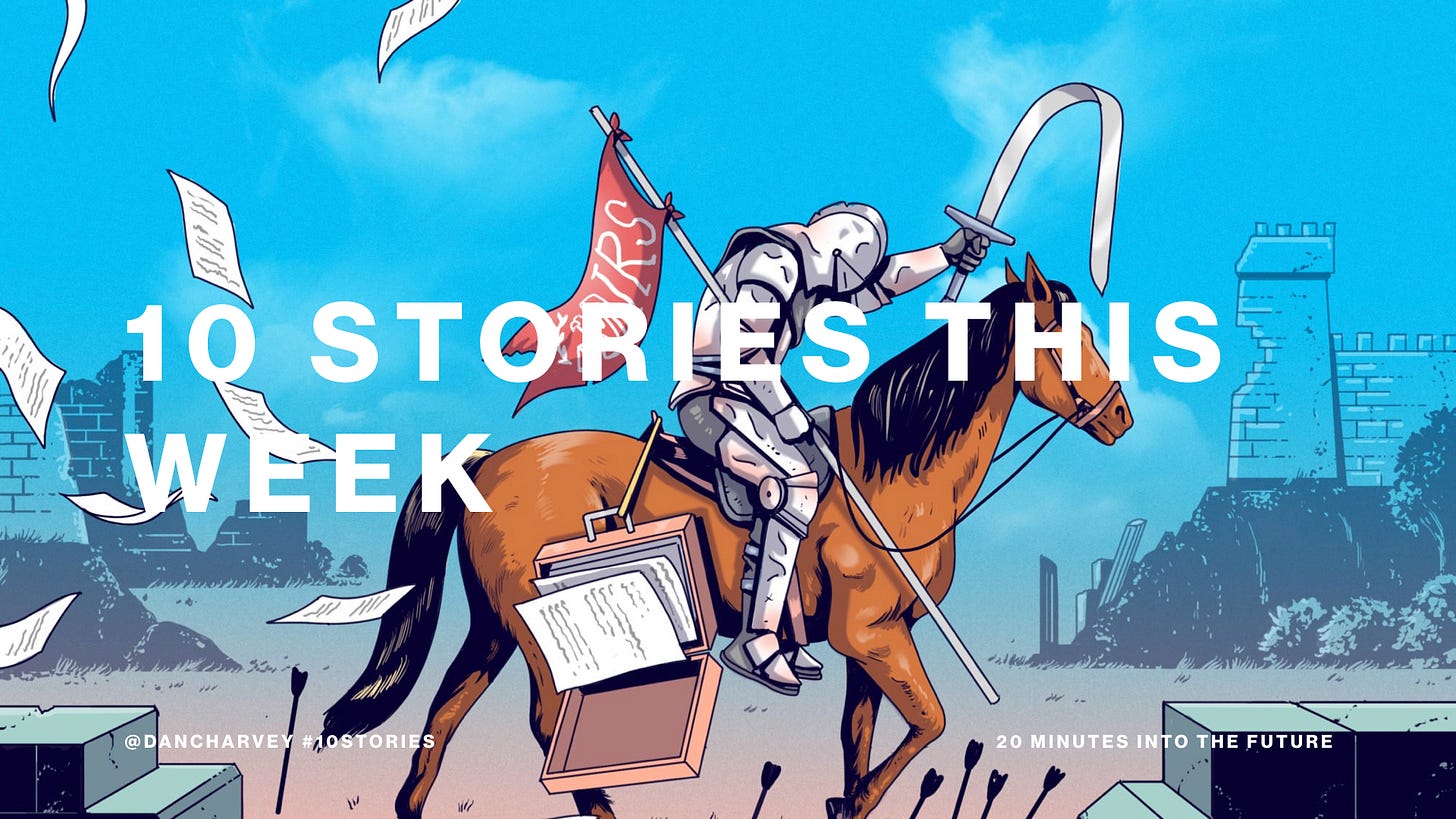 ⓵ Content moderation is one of the most important and dangerous desk jobs in big tech. YouTube and Accenture continue to treat the people that do this vital and hard work like absolute shit.
https://www.theverge.com/2020/1/24/21075830/youtube-moderators-ptsd-accenture-statement-lawsuits-mental-health
⓶ I'm old enough to remember when all this virtual stuff was supposed to be good for the environment. Shame that was just another lie. "Only about 6 percent of all data ever created is in active use today, according to research from Hewlett Packard Enterprise. That means 94 percent is sitting in a vast "landfill" with a massive carbon footprint."
https://www.japantimes.co.jp/news/2020/01/26/business/tech/email-global-warming/
⓷ Also not good for the environment? Anything Elon Musk does. "The water consumption of 372 cubic meters per hour by the plant could cause possible environmental pollution and shortages. A local water association warned earlier this month of extensive and serious problems with the drinking water supply and wastewater disposal."
https://futurism.com/the-byte/germans-protesting-berlin-tesla-gigafactory
⓸ Julia Carrie Wong continues to do amazing work exposing how much Facebook has become a highly targeted propaganda tool of authoritarians like Trump. 
https://www.theguardian.com/us-news/2020/jan/28/donald-trump-facebook-ad-campaign-2020-election
---
Not a subscriber yet? 20 Minutes into the Future is 100% ad free and always will be. Sign up for weekly commentary & related links to help you dig deeper into big tech behaving badly.
---
⓹ The ADL proves once again that YouTube is a radicalisation engine for white supremacists. 
https://www.technologyreview.com/f/615114/a-study-of-youtube-comments-shows-how-its-turning-people-onto-the-alt-right/
⓺ A brilliant long read on how facial recognition and emotive technologies have always been predicated on junk science. When I talk about this I point to people like Paul Ekman but this piece roles even further back to Darwin. Really great.  
https://reallifemag.com/lying-eyes/
⓻ The increased threat of US regulations and privacy improvements on iOS and Android are threatening Facebook's corrupt adtech profit engine. And now investors seem rattled too. 
https://boingboing.net/2020/01/30/facebook-stock-plummets-8-wi.html
⓼ Amazon's profits are up and to the right because of faster shipping. Sadly as we discussed earlier this week so are worker deaths.
https://www.theguardian.com/technology/2020/jan/30/amazon-profits-surge-investment-faster-shipping
---
Sick and tired of big tech behaving badly? 20 Minutes into the Future is about holding the bastards to account. One way we can do that is by spreading the word of their misdeeds.
---
⓽ Dear Zuck. Facebook is not misunderstood. People understand it all too well. Your platform is untrustworthy. Because you signal boost lying assholes for profit..
https://www.theverge.com/interface/2020/1/31/21115104/facebook-mark-zuckerberg-liked-understood-trust
⓾ An in-depth long read from ProPublica about how Sandberg helped Facebook dodge taxes and are now helping to dismantle the IRS's ability to do anything about it. 
https://www.propublica.org/article/whos-afraid-of-the-irs-not-facebook
---
Thanks for reading 20 Minutes into the Future. Have a friend or colleague who'd like the newsletter? Invite them to sign up.  

Good night and good future, 
Daniel
---
20 Minutes into the Future is a critical look at how technology is shaping our lives today. And what actions we can take for a better tomorrow. If you're not already a subscriber and found this newsletter worth your while then please sign up.
---
My name is Daniel Harvey and I write 20 Minutes into the Future. I'm a product designer and have written for Fast Company, Huffington Post, The Drum, & more. If you're pissed about the current state of tech and want to see us do better then you've found a kindred spirit.
You can email me at daniel.harvey@gmail.com or follow me on Twitter @dancharvey.